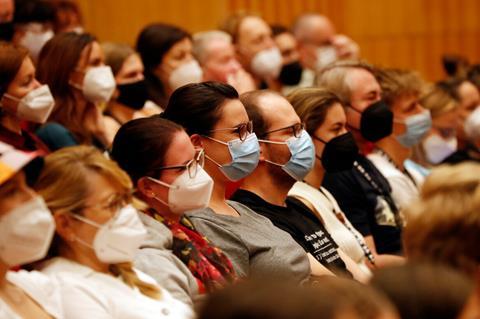 The Karlovy Vary International Film Festival has reported zero positive Covid-19 tests on its opening weekend, from over 3,000 tests conducted at the event.
The figures cover the period from Friday August 20 when the festival opened through to the end of Sunday August 22.
The festival also reported that more than 20,000 of the 'Covid-free' wristbands all attendees must wear have been distributed, with the figures providing validation so far of this process.
All those wishing to attend the event have to provide a QR code from an EU Covid-19 certificate. The certificate can be obtained through proof of either: two weeks passed from a second dose of an EU-verified vaccine; confirmation of having had Covid-19 less than 180 days previously (with the presence of antibodies); or confirmation of a valid PCR or antigen test issued by a certified laboratory.
For those vaccinated outside of the EU, including a smaller-than-usual number of UK attendees, there is a booth named 'Covid SOS' where guests can obtain a wristband through proof of the above information.
Even with the wristband, attendees are required to wear masks at all times inside festival screenings. Many screenings are full, with the event's popularity with the Czech public making up for the lack of an in-person industry component this year.
Masks are recommended at other indoor festival venues – in lobbies, bars and meeting areas – but are not being mandated.
As of 09.45 BST today (Tuesday), the festival has welcomed 6644 accredited attendees, including 226 filmmakers, 444 non-filmmaker film professionals and 390 journalists. 211 screenings have taken place and 65,557 tickets have been sold.
The festival opened on Friday with David Ondricek's Zatopek, a drama about Czech endurance runner Emil Zatopek, as a Special Screening. Michael Caine received the Crystal Globe lifetime achievement award at the opening ceremony; guests to arrive later this week include Ethan Hawke and Johnny Depp.