EXCLUSIVE: Production to start rolling in November.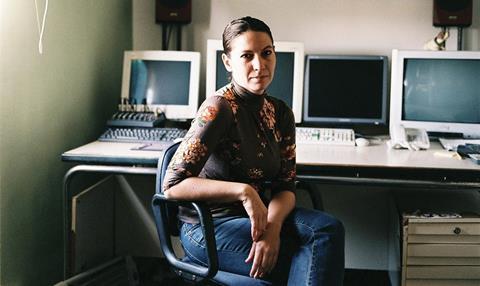 Israeli director Keren Yedaya is gearing up to shoot a big-screen version of cult 1980s Israeli anti-war rock opera Mami, which she has provisionally entitled Red Fields.
The 1986 original created political waves for its exploration of Israel's occupation of the Palestinian territories, discrimination against residents of southern Israel and the country's military aggression.
Yedaya is joining forces with Israeli rock star Dudu Tassa, his musical partner Nir Maimon and rising singer Neta Elkayam, best known for her fusion of traditional Moroccan-Jewish music with a modern vibe, to update the work to fit contemporary Israel.
Elkayam is set to play the titular Mami, a downtrodden young woman from southern Israel who moves to Tel Aviv with her war-damaged husband and is propelled to a position of power after an eccentric inventor rewires her brain.
The surreal story sees Mami, after she is elected to power, advocating for one final war that will free people from the affliction of love of life.
"It is one of the most beautiful and significant anti-war texts that I have ever read or sees. It's so poetic, strong and intelligent," said Yedaya.
The director, whose films Or (My Treasure), Jaffa and That Lovely Girl all premiered in official selection in Cannes, is scheduled to start shooting in November.
She hopes the film will be accepted into the Cannes Film Festival next year so that the premiere can coincide with the 50th anniversary of the 1967 Six-Day War, which also marks 50 years of Israeli occupation of the West Bank.
The film will be shot in real locations with actors for each role, unlike the stage show in which a small cast doubled up on multiple roles.
Yedaya acknowledges the production will require a break from the gritty realism of works such as incest drama That Lovely Girl or Or (My Treasure) about a mother and daughter trying to break out of a cycle of prostitution.
"I'm not giving up on my realistic cinema. It's something I know how to do well but for the first time in my life, it will be touched with surrealism. I am going to fly – Tarkovsky, Fellini, Turkish cinema, Iranian cinema… I am so excited," she said.
Tassa and Naimon are "sympathetically" updating the 20 songs in the musical in consultation with Hillel Mittelpunkt, who co-wrote the original musical.
Their band, Dudu Tassa and the Kuwaitis, will also appear in the film in a narration role, performing some of the numbers outside of the main action.
Yedaya and Marek Rozenbaum of Tel Aviv-based Transfax Film Productions are due to publicly unveil the project at Jerusalem Film Festival's Pitch Point industry event on July 10.
Rozenbaum – who puts the budget at around $1.2m – told Screendaily he is already in talks with potential French and German partners.