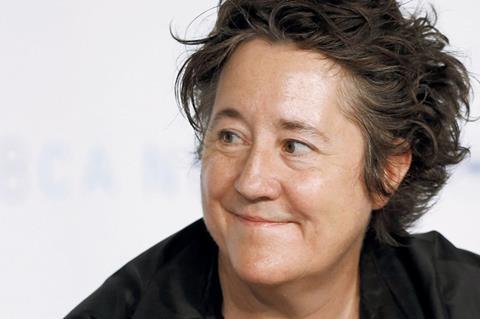 Producers should make the most of collapsing boundaries between feature film and television content, according to Killer Films producer Christine Vachon, speaking today (February 18) in Berlin.
Speaking on a European Film Market industry sessions talk titled 'Producers Embracing New Horizons', Vachon said, "To start parsing the difference between movies, TV and streamers – it's becoming really difficult. I don't know what makes something television anymore."
Vachon has produced two films at this year's Berlinale – Rebecca Miller's opening title She Came To Me, and Celine Song's Competition entry Past Lives – and is known for successful independent films such as Far From Heaven, Carol and First Reformed.
She has also worked in television, producing 2011 miniseries Mildred Pierce well before the current series trend amongst top talent; and more recently making five-episode Netflix series Halston starring Ewan McGregor.
"We used to really make the distinction between theatrical and television; now we have to start making the distinction between theatrical, streaming, and what kind of streaming," said Vachon. "If my daughter says 'I love this show', I'll say something as stupid as 'what night is it on?' And she'll say 'what are you talking about?!'"
Asked whether people thought she was selling out by moving to television with Mildred Pierce, Vachon responded bullishly, "Who cares?" Aspiring producers "should be led by the story first," she notes – "you don't want to take a film and jam it into a miniseries, if that's not what's right for the story." Younger filmmakers have the advantage of having been raised on a diet of more series content, she added. "[They] are more open to different kinds of storytelling – they can cite Scorcese, but they'll also cite The Sopranos."
She did add that the pandemic, which saw cinemas closed for much of 2020 and 2021 around the world and an increase in content viewed at home, has changed the landscape of which projects go to which format. "Have we evolved over the pandemic to preferring to see character-driven dramas in our homes?" asked Vachon.
Conservative financing
Fellow panellist Maria Ekerhovd, a Norwegian producer at Mer Film with credits including Gunnar Vikene's hit 2022 feature War Sailor and Eskil Vogt's Cannes 2021 title The Innocents, said that TV financing can be "a little bit more conservative, at least if you go the traditional route."
Ekerhovd is currently producing The Wedding Party, a series for Norwegian broadcast NRK. Ekerhovd praised the broadcaster, which she said is "not that conservative, and has a political demand that they have to tell stories from different perspectives in Norway." More broadly, however, scheduling poses an issue for TV financing. "The length and the tone – it's not necessarily that easy to find the slot, even if we are moving in terms of having more freedom of length and format," said Ekerhovd. "It hasn't really happened yet."
She advised any film producers considering a move to series to partner up with a production company with experience in that realm, as she has done on The Wedding Party with Norway's Tordenfilm. Without that support, "I would have to start all over learning the business again," said Ekerhovd. "My motivation to do that was not the biggest, because I want to be hands-on producing."
Roman Paul, co-founder of and producer at Germany's Razor Film, discussed his experience working with The Creatives, an international production alliance of nine production companies launched in November 2021, and backed by UK producer-distributor Fremantle.
The Creatives is TV-focused "right now", according to Paul, "but we also discuss feature film projects. We're all insecure where it's going to go right now, but we're going to continue in that respect."
Other members of The Creatives include Mike Goodridge's UK outfit Good Chaos, France's Haut Et Court, the Netherlands' Lemming Film and Maria Feldman's US firm Masha. The group meet "every Monday at 5pm on a Zoom" says Paul, and "that is something everyone attends. If you don't attend, you really write in the chat 'sorry, today I can't be there."
On the topic of money, Paul says the group are "discussing right now" on a revenue-sharing model for any projects created by one of its companies. "We're a bit like the EU - how much do you want to stay in yourself, how much do you branch out? But that would be a long-term goal – it's in the making."
The session was hosted by Wendy Mitchell, Screen International contributing editor and film festival consultant. The EFM continues until Wednesday, February 22.