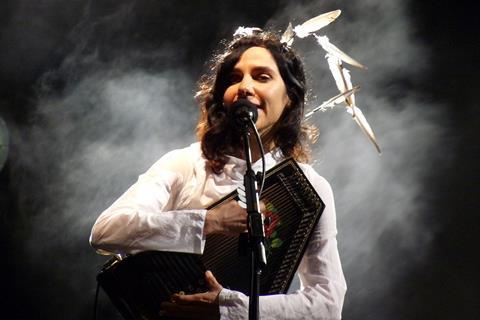 New projects from filmmakers Kirsten Sheridan, Ian Fitzgibbon and Mark O'Halloran are among those being backed by the Irish Film Board in its latest round of funding decisions.
A forthcoming animated TV series co-helmed by Irish Oscar nominee Nora Twomey is also being supported by the national film body, as is a new documentary featuring singer PJ Harvey.
Twomey, nominated for an Oscar this year for her film The Breadwinner, will co-direct Dorg Van Dango with Fabian Erlinghauser. The series, from a script by Nick Murphy, was awarded €250,000.
Ian Fitzgibbon's recently wrapped Dark Lies The Island, produced by Grand Pictures, received additional funding of €7,500. Written by Irish author Kevin Barry and based on his own book of short stories, it centres on a long-running family feud and stars Moe Dunford and Charlie Murphy.
Well-known Irish comedian and actress Maeve Higgins heads the cast of Extra Ordinary, which is currently filming on location in Cork in the south of Ireland. The comedy, produced by Katie Holly and Ailish Bracken at Blinder Films, was awarded additional production funding of €750,000 this quarter. The debut feature from Mike Ahern and Enda Loughman (aka DADDY) stars Higgins as a lonely driving instructor and generated interest when it participated at the inaugural Frontiers Finance and Packaging Forum in Amsterdam.
Marcie Films was awarded €100,000 in IFB support this quarter for Trade, written by actor and screenwriter Mark O'Halloran (Viva). Adapted from his own successful play about a man struggling to come to terms with his father's death, Peter Mackie Burns is attached to direct.
Cartoon Saloon's hugely successful Puffin Rock was awarded €250,000 in production support, while filmmaker Kirsten Sheridan (In America) has been given a provisional offer of commitment for her latest project, On the Line, with Parallel Film Productions.
In animation production, up-and-coming Irish outfit Pink Kong Studios was awarded €200,000 for Urban Tails. The series from the Dublin-based studios, to be directed by co-founder Aoife Doyle, involves urban animals entertaining and informing about life in their city through a series of rap videos.
In creative co-production, Element Pictures was granted €250,000 for its latest project, Calm With Horses. Directed by Nick Rowland from a screenplay by Joseph Murtagh, it centres on the relationship between a former boxer and his son in small-town Ireland. Subotica films was given backing of €250,000 for the forthcoming Amerika, co-written by Anders Thomas Jensen and Kristian Levring, with Levring directing.
In documentary production funding, PJ Harvey and photographer Seamus Murphy - who previously collaborated on projects about war and its aftermath - are receiving IFB backing. PJ Harvey: Staring Through the Glass is written and directed by Murphy with Blinder Films producing. Kim Bartley's Defenders, Ciaran Cassidy's Screamers, and Gaza: Out of the Ordinary, directed by Garry Keane and Andrew McConnell, are among other documentaries being supported.
In development funding, €40,000 was awarded to Parallel Film Production's At Swim, Two Boys, €25,000 to Snapshot Productions' Arrangements, and €23,050 to John Kelleher Media's Plurabelle. Two documentary development projects by Neasa Ní Chianáin (School Life), The Alexander Complex and The Good Father, also received backing.