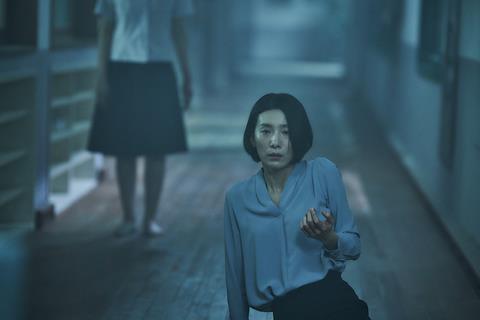 South Korea's Bucheon International Fantastic Film Festival (BIFAN) has announced it will open this year's edition with Korean high school horror franchise film, Whispering Corridors 6: The Humming.
In the midst of the Covid-19 pandemic, Asia's largest genre film fest will be screening 212 films from 48 countries in a hybrid on-and-offline event (July 9-16). A total of 72 films will be making their world premieres at BIFAN.
With South Korea requiring a mandatory two-week quarantine for arrivals from overseas, the festival is proceeding without any overseas guests and, in addition to cinema screenings, holding online screenings for local IP address holders.
Producer Lee Myung (The Truth Beneath) is making her feature directorial debut with Whispering Corridors 6: The Humming, which will receive its world premiere at BIFAN. The film stars Kim Seo-hyung as a woman who is reminded of her shocking high school past after being appointed as vice principal of her alma mater. Newcomers Kim Hyeon-soo and Choi Ri also star as students.
The line-up includes the world premiere of Korean sci-fi anthology SF8 from an octet of the country's most active genre film directors, including Jang Cheol-soo (Bedevilled) and Min Kyu-dong (Memento Mori).
Four out of the ten Bucheon Choice: Features competition films were directed by women, including Natalie Erika James' Australian film Relic and Laura Casabe's Argentinian film The Returned, both making their Asian premieres.
BIFAN is also holding a showcase called Renaissance of Chinese Genre Movies, a special collaboration with Smart Cinema, the developer of a mobile-based copy-prevention technology that is being used in China and is about to launch in Korea.
The showcase features six genre films from Hong Kong and China including the international premiere of Sam Quah's Sheep Without A Shepherd and the Korean premiere of Lou Ye's The Shadow Play. These titles will be available on the Smart Cinema mobile app for users based in South Korea.
BIFAN will be screening other films at cinemas and online through local streaming platform Watcha. It will also have a showcase of ten shorts and online events in collaboration with TikTok.
In order to prevent the spread of Covid-19, BIFAN will be downscaling its opening and closing ceremonies and other offline events as well as requiring hand sanitiser and mask usage in theatres with social distancing and safety measures.
NAFF Project Market
The festival previously announced 30 official selections for its Network of Asian Fantastic Films (NAFF) Project Market, including 11 films in the Spotlight on Korea showcase.
Selections include director Wong Fei-Pang's Hong Kong-Taiwan co-production A Burning Worm, with Winnie Tsang producing, and director Giang Le Binh's Vietnam-Korea co-production Ten Secrets Of Muoi, with producers Hang Trinh Le Minh, Bobby S. Kim and Kim Tae-Hyung attached.
The entire project market will be run online this year with meetings between filmmakers and international industry professionals to be held on matchmaking platform b.square.
This year, NAFF also is launching the Work In Progress category of projects that have completed filming and will be eligible for a total of $248,150 (KW300m) in post-production support.
NAFF has also increased prize money and added new awards including the Asian Discovery Award and the NAFF Korean Award in order to boost the production and development of genre films in the region.