EXCLUSIVE: "Russia's Brad Pitt" to star in Alexey Uchitel's period drama.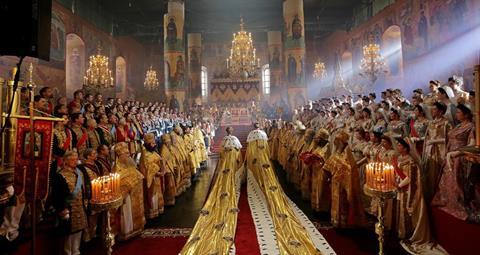 Danila Kozlovsky, known as Russia's Brad Pitt, is to star in Alexey Uchitel's historical drama-thriller Mathilde (working title) - set to be the biggest Russian production to be filmed this year.
The $30m production by Rock Films and the single purpose company Mathilda Ltd., with backing from the Russian Cinema Fund, centres on the love affair between the last Russian Tsar Nicholas II and the legendary ballerina Mathilde Kshesinskaya.
Speaking exclusively to ScreenDaily last week in St Petersburg, producer Kira Saksanganskaya explained that Kozlovsky, who was the lead in last year's box-office hit Legend No 17 and made inroads into a Hollywood career with a part in Vampire Academy, plays a rival to Tsar Nicholas II, played by German actor Lars Eidinger (Clouds of Sils Maria)
Other Russian actors in the cast include Evgeny Mironov, Grigory Dobrygin, Vitaly Kovalenko, Galina Tyunina, Vitaly Kishchenko as well as Lithuanian actress Ingeborga Dapkunaite, known to TV auduences from the BBC's version of Wallander.
The international flavour of what is Uchitel's and Rock Films' largest production to date include German actors Louise Wolfram as Princess Alix of Hesse-Darmstadt, later Empress Alexandra, and Thomas Ostermeier alongside Eidinger.
Other international cast includes French actress Sarah Stern (Comme un homme) and Chinese actress Yan Ge.
"Alexey first met [Schaubühne artistic director] Thomas Ostermeier in Moscow and liked his work, so he decided to go to Berlin to see the actors at the Schaubühne where he discovered Lars and Louise," Saksanganskaya said.
"We discovered Sarah Stern when we were showing The Fool in Locarno in August. We were travelling together to the airport and decided that she would be right for our film!"
Saksanganskaya added that the identity of the actress playing the ballerina Mathilde Kshesinskaya is being kept under wraps as are plot details.
The film had been in preparation by Rock Films for the past three years and is based on the first screenplay to be written for the cinema by bestselling Russian author Alexander Terekhov (The Stone Bridge).
"We have spent a lot of time of researching the historical background and are lucky enough to have extraordinary talented art directors Vera Zelinskaya and Elena Zhukova and Nadezhda Vasileva as costume designer," Saksanganskaya said.
The production is shooting at original locations ranging from Moscow's Bolshoi Theatre and the Kremlin's Cathedral Square through the Konstantin Palace in Strelny (near St Petersburg) to the Catherine, Yusopsky and Alexandrovsky Palaces and St Petersburg's Marinsky Theatre.
In additon, interiors have been built for a waggon of the Imperial train and a ballroom scene, but the most impressive is the recreation of the Uspensky Cathedral in Moscow's Kremlin, which was built in two months in a warehouse at a former rocket factory in a northern suburb of St Petersburg.
This lavish set replete with icons, candles and murals provided the setting for the coronation of Nicholas II with his wife Alexandra, and almost 400 extras in historically authentic costumes specially handmade for the production at ateliers in India over the past year.
While no Russian broadcaster is on board at this stage, Saksanganskaya is certain that "it will definitely be one of the main Russian channels because of such a strong subject" and, as is the Russian tradition, a mini-series version will be made in addition to the cinema release.
A theatrical release for the film, which is quite a departure for director Uchitel – whose previous films include the police crime drama Break Loose, the Second World drama The Edge and the romantic drama The Stroll – is planned for September 2016.
Rock Films plan to show footage to potential sales agents and distributors at next February's EFM in Berlin.