eOne's The Divergent Series: Allegiant posts disappointing non-final $2.6m (£1.83m) debut, including previews, from 528 sites.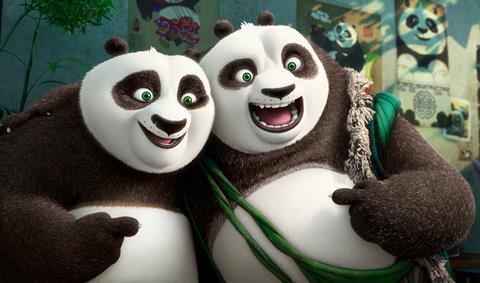 FOX
After its healthy previews last week, Kung Fu Panda 3 has landed top of the UK box office on debut.
Fox's animated threequel grossed a non-final $6.8m (£4.76m), including $2.3m (£1.6m) in previews, from its 583 sites. It's worth noting that its Fri-Sun tally of $4.6m (£3.17m) would have also seen it chart in first place.
However, that marks the lowest overall opening of the trilogy, down on Kung Fu Panda 2's $8.9m (£6.19m) from 514 sites and Kung Fu Panda's $8.7m (£6.06m) from 446 sites.
In terms of Fri-Sun tallies though, Kung Fu Panda 3's $4.6m (£3.17m) is ahead of Kung Fu Panda 2's $4.4m (£3.07m), although still down on the first film's $6.3m (£4.38m).
Also for Fox, Deadpool dropped a slim 28% on its way to a $1.4m (£962,257) fifth weekend for an excellent $51.4m (£35.8m). It should still be able to overtake Iron Man 3's $53.2m (£37m) as the fifth biggest superhero film of all time.
Alvin And The Chipmunks: The Road Chip has now overtaken Chipwrecked as the second biggest performer of the series. The fourth outing added $425,000 (£295,332) for $22.6m (£15.71m) to date.
The Revenant and The Other Side Of The Door stand at $32.9m (£22.86m) and $778,000 (£541,112), respectively.
EONE
The Divergent Series: Allegiant got off to a sluggish start at the UK box office even though it charted second.
eOne's continuation of the young adult franchise took a non-final $2.6m (£1.83m), including $377,000 (£262,069) in previews, from its 528 sites. Its Fri-Sun tally of $2.3m (£1.57m) would have seen it chart third behind London Has Fallen.
That's slightly ahead of Divergent's $2.5m (£1.77m) but that was achieved from fewer sites (423) and without previews. It's some way short of The Divergent Series: Insurgent's $4.2m (£2.94m), including $554,000 (£384,965) in previews, from 497 sites.
Also for eOne, Oscar winner Spotlight dug up a further $252,000 (£174,979) for $8.4m (£5.85m) after seven weeks in play.
LIONSGATE
London Has Fallen has already outgrossed Olympus Has Fallen at the UK box office.
Lionsgate's action sequel held well to enjoy a $2.6m (£1.8m) second weekend as it dropped to third, and now stands at $9.3m (£6.44m) after 11 days in play to overtake Olympus Has Fallen's $8.8m (£6.1m) result.
London Has Fallen now stands a decent chance to hit the £10m mark given a lack of direct competition opening this weekend.
Also for Lionsgate, The Choice unsurprisingly struggled following its soft opening, taking just $35,000 (£24,391) for a ten-day tally of $382,000 (£265,807).
UNIVERSAL
Rounding off this week's top five was Universal's Hail, Caesar! with a $1.2m (£857,682) second weekend.
The Coen Brothers' latest is now up to $4.6m (£3.24m) and will soon overtake O Brother, Where Are Thou?'s $4.77m (£3.32m) as the duo's fifth best UK performer. Whether Hail, Caesar! can get close to True Grit's $12.1m (£8.46m) remains to be seen.
Also for Universal, critically acclaimed horror The Witch conjured up $641,000 (£446,151), including $16,000 (£11,028) in previews, from its 179 sites at a $3,576 (£2,492) site average.
It will hope to connect midweek and avoid the usual fast-burn nature of genre films in the UK.
Dad's Army has amassed $11.8m (£8.24m) to date.
SONY
In its third weekend, Sony's Grimsby dropped a further 41% on its way to $683,000 (£475,000) for a disappointing $6.5m (£4.5m) to date.
WARNER BROS
Dropping just over 30% in its fourth week, Warner Bros' comedy How To Be Single added an extra $479,000 (£333,000) for a solid $7.8m (£5.43m) running total.
CURZON ARTIFICIAL EYE
Landing tenth on its UK bow, Curzon Artificial Eye's Anomalisa recorded a $320,000 (£222,282) debut, including previews, from its 80 sites.
That marks a solid $3,996 (£2,779) site average and the film will look to prosper midweek given its older-skewing audience. Charlie Kaufman's directorial debut Synecdoche, New York grossed $762,000 (£530,000) in its UK run.
VERTIGO RELEASING
Fifty Shades Of Black whipped up a soft $119,000 (£82,614) from its 117 sites through Vertigo Releasing.
That's down on the $221,000 (£153,805) debut of director Michael Tiddes' horror spoof with star Marlon Wayans, A Haunted House, although that was released in 226 sites.
ICON FILM DISTRIBUTION
After three weeks in play, Icon Film Distribution's The Forest stands at $1.3m (£921,595).
Also for Icon, The Ones Below posted a UK bow of $10,000 (£6,971) from its 11 sites.
UPCOMING RELEASES
This week sees saturation releases for Entertainment Film Distributors' The Boy and Paramount's 10 Cloverfield Lane.
Sony's Risen, Studiocanal's High-Rise, Signature Entertainment's Norm Of The North and Sony's Rock The Kasbah all receive wide releases, while Picturehouse Entertainment's Marguerite is among the films receiving a limited release.