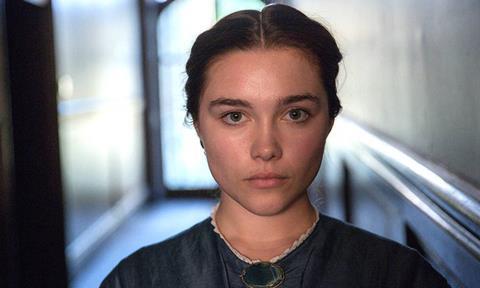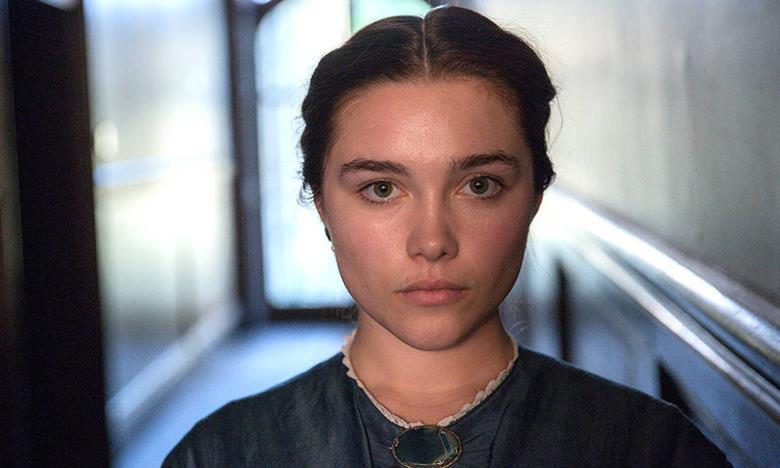 The nominations for the 2017 British Independent Film Awards (BIFAs) were revealed this morning, with William Oldroyd's Lady Macbeth leading the way on 15 nominations.
Scroll down for full list of nominations
The period drama is up for Best British Independent Film, Best Director, and Best Screenplay, while cast members Florence Pugh, Cosmo Jarvis and Naomi Ackie are all nominated, with the latter up for both Best Supporting Actress and Most Promising Newcomer.
Debut features are well represented in this year's crop, with Rungano Nyoni's I Am Not A Witch scoring 13 nominations (joint with Armando Iannucci's The Death Of Stalin) and Francis Lee's God's Own Country score 11 (joint with Martin McDonagh's Three Billboards Outside Ebbing, Missouri.
Those five titles comprise the Best British Independent Film and Best Director categories.
Up for Best International Independent Film are: The Florida Project, Get Out, I Am Not Your Negro, Loveless and The Square.
Joining God's Own Country's Josh O'Connor and Alec Secareanu in the Best Actor category are Jawbone's Johnny Harris, Journeyman's Paddy Considine and Film Stars Don't Die in Liverpool's Jamie Bell.
The Best Actress category sees Three Billboards Outside Ebbing, Missouri's Frances McDormand up against I Am Not A Witch's Margaret Mulubwa, Lady Macbeth's Florence Pugh, Dark River's Ruth Wilson, and Daphne's Emily Beecham.
The Breakthrough Producer award sees Fodhla Cronin O'Reilly (Lady Macbeth) up against Emily Morgan (I Am Not A Witch), Jack Tarling and Manon Ardisson (God's Own Country), Gavin Humphries (Pin Cushion) and Brendan Mullin and Katy Jackson (Bad Day For The Cut).
Distributors and new awards
In terms of distributors, Altitude leads the way with 19 nominations, Curzon Artificial Eye has 18, eOne has 14, Fox Searchlight has 13, Picturehouse has 12, Vertigo has eight, Lionsgate has six, Studiocanal has four, STX has two, and Arrow and Universal have one apiece.
This year for the first time, nine craft categories will be awarded in the disciplines of casting, cinematography, costume design, editing, make-up and hair design, music, production design, sound and effects, replacing the catch-all 'achievement in craft' category from previous editions. The winners of those awards will be announced on November 23.
Mark Gatiss will host the BIFAs ceremony on December 10 at Old Billingsgate.
Full list of nominations:
Best British Independent Film
The Death Of Stalin Armando Iannucci, David Schneider, Ian Martin, Yann Zenou, Kevin Loader, Nicolas Duval Adassovsky, Laurent Zeitoun
God's Own Country Francis Lee, Jack Tarling, Manon Ardisson
I Am Not A Witch Rungano Nyoni, Juliette Grandmont, Emily Morgan
Lady Macbeth William Oldroyd, Alice Birch, Fodhla Cronin O'Reilly
Three Billboards Outside Ebbing, Missouri Martin McDonagh, Graham Broadbent, Pete Czernin
Best International Independent Film
The Florida Project Sean Baker, Chris Bergoch, Kevin Chinoy, Andrew Duncan, Alex Saks, Francesca Silvestri, Shih-Ching Tsou
Get Out Jordan Peele, Jason Blum, Edward H Hamm Jr, Sean McKittrick
I Am Not Your Negro Raoul Peck, James Baldwin, Hébert Peck, Rémi Grellety
Loveless Andrey Zvyaginstev, Oleg Negin, Gleb Fetisov, Sergey Melkumov, Alexander Rodnyansky
The Square Ruben Östlund, Erik Hemmendorff
Best Director
The Death Of Stalin Armando Iannucci
God's Own Country Francis Lee
Three Billboards Outside Ebbing, Missouri Martin Mcdonagh
I Am Not A Witch Rungano Nyoni
Lady Macbeth William Oldroyd
Best Screenplay
Lady Macbeth Alice Birch
The Death Of Stalin Armando Iannucci, David Schneider, Ian Martin
God's Own Country Francis Lee
Three Billboards Outside Ebbing, Missouri Martin Mcdonagh
I Am Not A Witch Rungano Nyoni
Best Actress
Daphne Emily Beecham
Three Billboards Outside Ebbing, Missouri Frances Mcdormand
I Am Not A Witch Margaret Mulubwa
Lady Macbeth Florence Pugh
Dark River Ruth Wilson
Best Actor
Film Stars Don't Die In Liverpool Jamie Bell
Journeyman Paddy Considine
Jawbone Johnny Harris
God's Own Country Josh O'connor
God's Own Country Alec Secareanu
Best Supporting Actress
Lady Macbeth Naomi Ackie
The Party Patricia Clarkson
Goodbye Christopher Robin Kelly Macdonald
The Death Of Stalin Andrea Riseborough
Film Stars Don't Die In Liverpool Julie Walters
Best Supporting Actor
The Death Of Stalin Simon Russell Beale
The Death Of Stalin Steve Buscemi
Three Billboards Outside Ebbing, Missouri Woody Harrelson
God's Own Country Ian Hart
Three Billboards Outside Ebbing, Missouri Sam Rockwell
Most Promising Newcomer
Lady Macbeth Naomi Ackie
Just Charlie Harry Gilby
Lady Macbeth Cosmo Jarvis
Chubby Funny Harry Michell
Pin Cushion Lily Newmark
The Douglas Hickox Award (Best Debut Director)
Pin Cushion Deborah Haywood
God's Own Country Francis Lee
Jawbone Thomas Napper
I Am Not A Witch Rungano Nyoni
Lady Macbeth William Oldroyd
Debut Screenwriter
Lady Macbeth Alice Birch
Their Finest Gaby Chiappe
Jawbone Johnny Harris
God's Own Country Francis Lee
I Am Not A Witch Rungano Nyoni
Breakthrough Producer
Pin Cushion Gavin Humphries
I Am Not A Witch Emily Morgan
Bad Day For The Cut Brendan Mullin, Katy Jackson
Lady Macbeth Fodhla Cronin O'reilly
God's Own Country Jack Tarling, Manon Ardisson
The Discovery Award
Even When I Fall Sky Neal, Kate McLarnon, Elhum Shakerifar
Halfway Ben Caird, Jonny Paterson
In Another Life Jason Wingard, Hannah Stevenson, Rebecca Clare Evans
Isolani R Paul Wilson, Lisa Hague
My Pure Land Sarmad Masud, Bill Kenwright
Best Documentary
Almost Heaven Carol Salter
Half Way Daisy-May Hudson
Kingdom Of Us Lucy Cohen, Julia Nottingham, Lucas Ochoa, Thomas Benski, Bill Rudgard
Uncle Howard Aaron Brookner, Paula Vaccaro
Williams Morgan Matthews, Hayley Reynolds, Sarah Hamilton
Best British Short Film
1745 Gordon Napier, Morayo Akandé, John McKay
Fish Story Charlie Lyne, Catherine Bray, Anthony Ing
The Entertainer Jonathan Schey, Jodie Brown, Jun Bung Lee
Work Aneil Karia, Scott O'Donnell
Wren Boys Harry Lighton, John Fitzpatrick, Sorcha Bacon
Best Cinematography
Three Billboards Outside Ebbing, Missouri Ben Davis
I Am Not A Witch David Gallego
Jawbone Tat Radcliffe
Leaning Into The Wind Thomas Riedelsheimer
Lady Macbeth Ari Wegner
Best Casting
Lady Macbeth Shaheen Baig
God's Own Country Shaheen Baig, Layla Merrick-Wolf
The Death Of Stalin Sarah Crowe
Three Billboards Outside Ebbing, Missouri Sarah Halley Finn
Film Stars Don't Die In Liverpool Debbie Mcwilliams
Best Costume Design
My Cousin Rachel Dinah Collin
The Death Of Stalin Suzie Harman
How To Talk To Girls At Parties Sandy Powell
I Am Not A Witch Holly Rebecca
Lady Macbeth Holly Waddington
Best Editing
Williams Johnny Burke
Jawbone David Charap
Three Billboards Outside Ebbing, Missouri Jon Gregory
The Death Of Stalin Peter Lambert
Us And Them Joe Martin
Best Effects
The Ritual Nick Allder, Ben White
Journeyman Luke Dodd
The Death Of Stalin Effects Team
Double Date Dan Martin
Their Finest Chris Reynolds
Best Make Up & Hair Design
I Am Not A Witch Julene Paton
Breathe Jan Sewell
Journeyman Nadia Stacey
The Death Of Stalin Nicole Stafford
Lady Macbeth Sian Wilson
Best Music
Three Billboards Outside Ebbing, Missouri Carter Burwell
Leaning Into The Wind Fred Frith
I Am Not A Witch Matt Kelly
Jawbone Paul Weller
The Death Of Stalin Christopher Willis
Best Production Design
Lady Macbeth Jacqueline Abrahams
The Death Of Stalin Cristina Casali
Final Portrait James Merifield
I Am Not A Witch Nathan Parker
Film Stars Don't Die In Liverpool Eve Stewart
Best Sound
God's Own Country Anna Bertmark
I Am Not A Witch Maiken Hansen
Jawbone Andy Shelley, Steve Griffiths
Three Billboards Outside Ebbing, Missouri Joakim Sundström
Breathe Sound Team