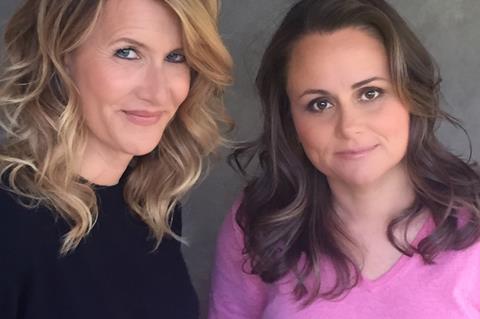 New Los Angeles-based television production and distribution operation Platform One Media has signed a first-look TV deal with Laura Dern and Jayme Lemons' production company Jaywalker Pictures.
Already in development under the deal is Mr & Mrs American Pie, a potential one-hour series based on a novel by Juliet McDaniel that Platform One has optioned from publisher Inkshares. Set in 1969, the novel is about a Palm Springs socialite's attempt to rebuild her identity after her husband leaves her and she is shunned by society.
McDaniel will write the series and serve as an executive producer along with Dern, Lemons, Platform One's Elisa Ellis, and Inkshares founder Adam Gomolin.
Launched in 2017, Los Angeles-based Jaywalker is also developing features Candy & Mel and The Dog Of The South as well as a half-hour comedy from Transparent writer Arabella Anderson and Dexter writer-producer Wendy West.
With HBO, Jaywalker is developing a one-hour series about the marketing system behind Tupperware and a half-hour drama from Alex Gibney about a death-row psychiatrist.
Dern is currently in production as one of the stars of the second season of HBO's Big Little Lies. She can be seen on HBO in the US in Jennifer Fox's critically acclaimed drama The Tale.
Platform One, launched last year by TPG Growth's Evolution Media with Liberty Global as a minority partner, is headed by CEO Katie O'Connell Marsh, former Los Angeles head of Gaumont International Television (against whom she filed a lawsuit earlier this year over compensation related to Narcos and other series).
Commenting on the Jaywalker deal, O'Connell Marsh said: "As an award-winning actress, talented producer and articulate creative visionary, Laura Dern is well respected for her artistry and activism in Hollywood and around the world. We look forward to working with Jaywalker Pictures to develop compelling stories and necessary narratives for television that resonate with audiences around the globe."
Dern added: "Jayme and I are thrilled to be working with Platform One Media. We feel so inspired by the passion Katie O'Connell and her amazing team brings to every creative conversation."