American critic and author thinks the internet has "diluted" film criticism.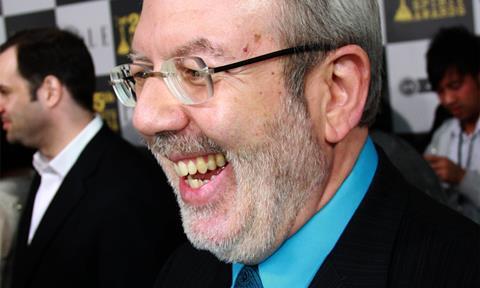 US film critic Leonard Maltin has claimed that there is an increasing lack of interest in film criticism due to the emergence of the internet and social media.
Maltin is one of the most well-known critics in the world for his book Leonard Maltin's Movie Guide, which started in 1969 and was published annually from 1986 until 2014.
Speaking to Screen at the Karlovy Vary International Film Festival, Maltin said: "There's no shortage of good and intelligent film critics. There's a lack of interest and there's a dilution of criticism in general because of the internet and social media."
He added: "On one hand one has to applaud the democratisation of communication. There are no gatekeepers, so everyone can… write as they please. But the flip side of the coin is there are no standards being upheld, that's risky, that's dangerous.
"I do think something has been lost. I don't want to sound like an old fogey, but I remember how much it meant to me when I was first published, as a kid, it meant I'd reached a certain goal or status… you are good enough to be published. But now you can publish yourself."
"When people ask me what qualities critics should have I have a stock answer, it should be equal parts passion and knowledge, and the knowledge comes from experience. If you've never seen silent films, or foreign language films, if your education with film begins with Star Wars then you're handicapped."
In 2014, Maltin claimed that the internet was responsible for declining sales of his film lovers' guide.
Studio woes
Maltin also said Hollywood studios only have themselves to blame for the increased popularity of high-end TV, which competes for audiences and talent.
He said: "None of the studios are financing… or backing intelligent, adult material for the big screen [though] there are exceptions here and there. They've done this to themselves. They've driven people towards high-end television. TV outlets are giving [filmmakers] the opportunity to do something creatively rewarding, so how can they not jump at the chance at that, no matter where it ends up?"
He adds: "For the most part more people will see an HBO movie or show in one night than would see it in the widest theatrical release, unless it's The Hunger Games. They'll reach more people. Every filmmaker, actor, writer producer wants an audience.
"The truth is self-evident and yet my favourite film this year is Get Out, which comes from Universal, which backed Jordan Peele who had never made a movie before. I think he's an important new voice in American film so every now and then stuff gets through."
Finally, Maltin also paid tribute to British film critic Barry Norman, who passed away aged 83 last Friday (June 30).
Tribute
He said: "I never met Barry Norman. I only knew of him. When I started to achieve a degree of success and I would meet a Brit they would say: "Oh, you're the American Barry Norman".
"I'm sorry to hear of his passing. I know how important he was. Roger Ebert and Gene Siskel became synonymous with the term 'film critic' in America, they were 'America's film critics for a span of time', and Barry Norman was the same [in the UK]."
Besides his hugely successful books, Maltin has also been a regular face on US television, was referenced in both The Simpsons and South Park, and had a cameo in Gremlins 2: The New Batch.