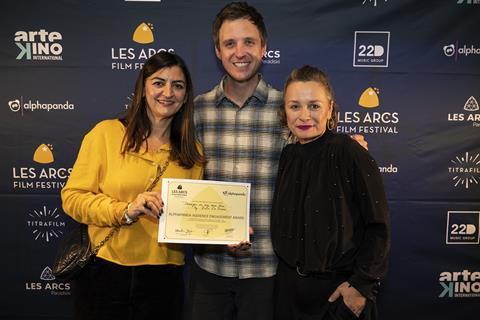 Les Arcs Film Festival has awarded €31,000 ($34,900) in prizes at the Industry Village awards for its 2021 edition, with seven of eight awards given to women or projects by women.
Held in-person at the festival on Monday, December 13, winners included Milad Alami's Opponent in the Work in Progress section, receiving €10,000 of post-production services.
Scroll down for the full list of winners.
The jury, composed of Cannes Directors' Fortnight programmer Florence Almozini, Mubi co-head of acquisitions Kevin Chan and Chicago International Film Festival artistic director Mimi Plauché, praised the film's "dynamic compelling visual language and the film's use of wrestling and its physicality to explore the thematic of freedom."
The Norway-Sweden co-production follows the patriarch of a family of Iranian refugees in northern Sweden, who breaks a promise to his wife by joining the local wrestling club. Currently in post-production, it deals with "intimacy and masculinity" according to the director.
The jury also gave a special mention to Sacha Polak's Netherlands-UK co-production Silver Haze.
Fifteen feature films, all in post-production, were screened in this 11th edition of the Work in Progress section.
The Audience Engagement award, worth €5,000 of digital marketing and advertising spend, went to Katia De Vidas' Stranger In My Own Skin, with a separate jury of Maneki Films founder Didar Domehri and film marketing strategists Mathias Noschis and Joanna Solecka.
The film is a music documentary about Pete Doherty, frontman of UK rock group The Libertines.
"The film puts a light on a complex personality in a new chapter of his life," said the jury. "This story will give audiences hope for a possible change and will touch viewers far beyond music communities."
Ninna Palmadottir's Icelandic title Solitude won the prize for best project in the Coproduction Village. Produced through Iceland's Pegasus Pictures, the title is a co-production with Croatia's MP Film Production.
Two Producers Network badges were awarded to Latvian producer Inga Pranevska of Kultfilma, and Switzerland's Veronique Vergari of Luna Films, affording both the opportunity to attend the Producers Network at Cannes 2022.
Held at the Bowling venue in the Les Arcs ski resort, the industry ceremony was attended by guests including Cannes Marché du Film head Jerome Paillard, who said in an address to industry guests that "Cannes will definitely be happening on May 17."
The Les Arcs Industry Village ran from Saturday, December 11 until Tuesday, December 14, attended in-person by over 450 industry professionals – down about 10-15% on 2019's figures, according to the festival.
The public festival, which opened on December 11 with a screening of Valdimar Johannsson's Lamb attended by lead actress Noomi Rapace, continues until December 18.
Les Arcs 2021 Industry Village winners
Talent Village award – Marriage By Abduction (Ger) dir. Sophia Mocorrea
Coproduction Village best project award – Soltitude (Ice) dir. Ninna Palmadottir
Producers Network badges – Inga Pranevska, Kultfilma (Lat); Veronique Vergari, Luna Films (Switz)
Work In Progress
Post-production services award – Opponent (Nor-Swe) dir. Milad Alami
Special mention – Silver Haze (Neth-UK) dir. Sacha Polak
Audience Engagement award – Stranger In My Own Skin (Fr) dir. Katia De Vidas
Music award – Nika (Rus) dir. Vasilisa Kuzmina