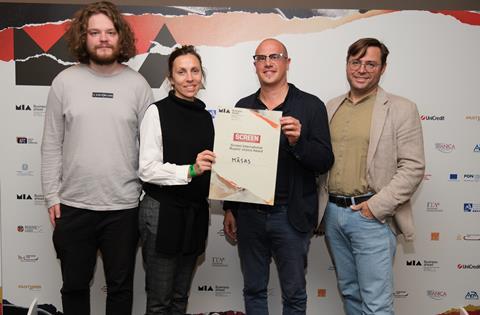 Latvian director Linda Olte's youthful drama Sisters won the Screen International Buyers' Choice award, which is voted on by buyers attending the C EU Soon work-in-progress event at the MIA film and TV market in Rome.
The drama is about two sisters living in care in Latvia who are on the cusp of being adopted by a US couple and building a new life when their biological mother re-enters their life.
It is produced by Swedish-Latvian producer Matiss Kaza at Fenix Film and Italian producers Roberto Cavellini and Wilfried Gufler at Bolzano-based Abolina.
Sisters marks Olte's debut feature following a strong track record in TV. Recent credits include the family comedy drama Project: Divorce about a middle-aged, middle-class couple with grown-up children whose relationship is pushed to the limits by the pressures of the Covid-19 pandemic.
As winner of Screen International Buyers' choice award, Sisters will receive special coverage on Screendaily throughout its life cycle, from production to release and future debut in the film festival circuit.
The drama was one of five films in post-production presented at the C EU Soon showcase, aimed at connecting upcoming first and second films hailing from the European Union with distributors, sales agents and festival programmers.
The other titles included Icelandic director Gudmundur Arnar Gudmundsson's Beautiful Beings, about a teenage boy who adopts a bullied kid into his group of violent misfits, which was acquired for sales by New Europe on the eve of MIA.
German filmmakers Ole Jacobs and Arne Büttner's presented their feature documentary Nasim, following a young Afghan woman living in the Moria camp on the Greek island of Lesbos.
The remaining two titles comprised French filmmaker Eve Duchemin's Temps Mort, starring Karim Leklou, Issaka Sawadogo and Jarod Cousyns as three men on 48-hour parole, and Slovakian filmmaker Michal Blasko's debut film Obet, about a Ukrainian single mother woman who unwittingly unleashes a wave of violence in the small Czech town she calls home when she believes her teenage son's account that he was beaten up by three men from the Roma community.
The C EU finalists were chosen by an international selection committee composed of Sara May, director of acquisitions and co-productions for France and Italy at Netflix, Carla Quarto di Palo, director of international sales at Cornerstone Films, and Ioanna Stais, head of sales and acquisitions at Heretic.
The MIA market ran from October 13-17 as a physical event in Rome.