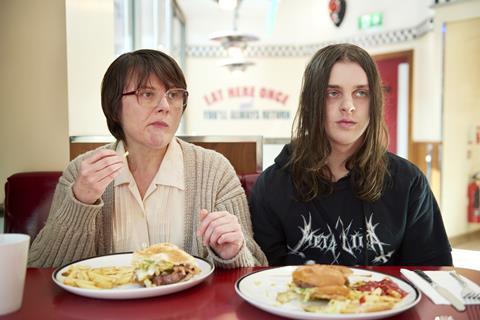 The Locarno Film Festival's new artistic director Lili Hinstin unveiled an eclectic inaugural selection on Wednesday (July 17), including world premieres of German director Patrick Vollrath's hijack thriller 7500, starring Joseph Gordon-Levitt, and Dutch actress Halina Reijn's racy feature debut Instinct, co-starring Carice van Houten and Marwan Kenzari.
Scroll down for line-up
They are among 12 films due to play to an audience of 8,000 spectators on Locarno's world-famous Piazza Grande alongside Quentin Tarantino's Once Upon A Time… In Hollywood, French filmmaker Valérie Donzelli's romantic comedy Notre Dame and UK actor-turned-director Simon Bird's feature debut Days Of The Bagnold Summer.
Hinstin said she had striven to deliver an eclectic, diverse line-up that continued the festival's tradition of "not fitting the norm".
"The choices you make for your first festival all tend to become a kind of manifesto. I hope that will be the case for me, too, and that my first edition as Artistic Director will present you with an editorial line that is clear and precise but also eclectic, open to all genres, all continents, all forms of representation," she wrote in her introduction to the selection announcement.
Further Piazza Grande highlights include a screening of Jean-Luc Godard's 1982 short film A Letter To Freddy Buache, addressed to the Swiss film critic. The co-founder of the Swiss Film Archive and former Locarno Film Festival co-director died in May and the entire 72nd edition of the festival is dedicated to him.
The selection opens with Italian director Ginevra Elkann's comedy drama If Only (Magari) and closes with Japanese filmmaker Kiyoshi Kurosawa's Uzbekistan-set road movie To The Ends Of The Earth.
If Only is one of three first films in the Piazza Grande line-up alongside Instinct and Days Of The Bagnold Summer.
Another six titles will also screen on the Piazza Grande, in a newly-titled Crazy Midnight late night slot.
They include Cecil B. Demented by John Waters, who is the festival's Leopard of Honour this year, and Bong Joon-ho's Memories Of Murder, starring South Korean actor Song Kang-ho, who is receiving Locarno's Excellence Award. Bong will also be in attendance.
International Competition
A total of 17 features will compete in the International Competition.
The selection combines new films from established directors and such as Vitalina Varela by Portuguese director Pedro Costa and A Missing Girl by Japan's Koji Fukada as well first-time features including Syrian director Maya Khoury's During Revolution exploring the events surrounding her country's popular uprising.
The Cinema of the Present Selection will showcase 16 innovative works looking at the world from a different perspective.
They include French actress Jeanne Balibar's solo debut feature Wonders In The Suburbs (Merveilles à Montfermeil), starring Emmanuelle Béart as the mayor of a small town who implements a wacky new strategy, Elsa Kremser's Space Dogs, about the first canine astronaut, Klaudia Reynicke's surreal feminist manifesto Love Me Tender, and 143 rue du desert by Moroccan director Hassen Ferhani, whose slaughterhouse documentary Roundabout In My Head won multiple awards.
Award announcements
In other fresh announcements on Wednesday, the festival revealed that Million Dollar Baby star Hilary Swank will be feted with the Leopard Club Award, while the Vision Award Ticinomoda goes to French-US editor Claire Atherton, a long-time collaborator of late filmmaker Chantal Akerman.
Other previously announced honourees include Swiss filmmaker Fredi M. Murer – who will receive the festival's career achievement award, and Maren Ade, Jonas Dornbach and Janine Jackowski, co-founders of the German production company Komplizen Film, who will jointly receive The Raimondo Rezzonico Prize.
The key sections are below:
Piazza Grande
7500 (Ger/Aus), dir. Patrick Vollrath, world premiere,
Adoration (Bel/Fra), dir. Fabrice du Welz, world premiere
Camille (Fra), dir. Boris Lojkine, world premiere
Days Of The Bagnold Summer (UK), dir. Simon Bird, world premiere, first feature
The Girl With The Bracelet (Fra/Bel), dir. Stéphane Demoustier, world premiere
If Only (Magari) (Ita/Fra), dir. Ginevra Elkann, world premiere, first feature, OPENING FILM
Instinct (Neth), dir. Halina Reijn, world premiere, first feature
Lettre à freddy buache (Fra), dir. Jean-Luc Godard
New Acid (Fra/Swi), dir. Basim Magdy, world premiere
Notre Dame (Fra/Bel), dir. Valérie Donzelli, world premiere
Once Upon A time… In Hollywood (USA), dir. Quentin Tarantino
To the Ends Of The Earth (Jap/Uzb/Qat), dir. Kiyoshi Kurosawa, international premiere, CLOSING FILM
Diego Maradona (UK), dir. Asif Kapadia
Piazza Grande, Crazy Midnight
Cecil B. Demented (USA/Fra), dir. John Waters
Coffy (USA), dir. Jack Hill
Vagenda Stories (Die Fruchtbaren Jahre Sind Vorbei) (Swi), dir. Natascha Beller, world premiere, first feature
Greener Grass (USA), Jocelyn DeBoer, dir. Dawn Luebbe, international premiere, first feature
Memories Of Murder (Kor), dir. Bong Joon-ho
The Nest (Ita), dir. Roberto De Feo, world premiere, first feature
International Competition
The Fever (A Febre) (Bra/Fra/Ger), dir. Maya Da-Rin, world premiere
Echo (Bergmál) (Ice/Fra/Swi), dir. Rúnar Rúnarsson, world premiere
Cat In The Wall (Bul/UK/Fra), dir. Mina Mileva, Vesela Kazakova, world premiere
Das Freiwillige Jahr (Ger), dir. Ulrich Köhler, Henner Winckler, world premiere
During Revolution (Fi Al-Thawra) (Syr/Swe), dir. Maya Khoury, world premiere, first feature
A Girl Missing (Yokogao) (Jap/Fra), dir. Koji Fukada, international premiere
Height Of The Wave (Kor), dir. Park Jung-bum, international premiere
Hogar (Ita/Arg), dir. Maura Delpero, world premiere
Isadora's Children (Les Enfants d'Isadora) (Fra/Kor), dir. Damien Manivel, world premiere
The Last Black Man In San Francisco (USA), dir. Joe Talbot, international premiere, first feature
Longa Noite (Spa), dir. Eloy Enciso, world premiere
O Fim Do Mundo (Swi), dir. Basil Da Cunha, world premiere
The Science Of Fictions (Hiruk-Pikuk Si Al-Kisah) (Ind/Mal/Fra), dir. Yosep Anggi Noen, world premiere
Technoboss (Por/Fra), dir. João Nicolau, world premiere
Terminal Sud (Fra), dir. Rabah Ameur-Zaïmeche, world premiere
Twelve Thousand (Douze Mille) (Fra), dir. Nadège Trebal, world premiere
Vitalina Varela (Por), dir. Pedro Costa, world premiere