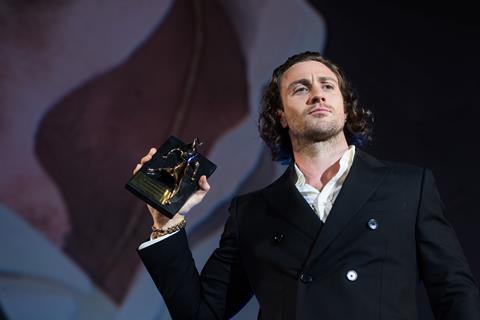 This year's edition of the Locarno Film Festival (August 3-13), the second one under the artistic direction of Giona Nazzaro, kicked off Wednesday evening with the presentation of the Davide Campari excellence award to the UK actor Aaron Taylor-Johnson before the screening of his latest film, David Leitch's Bullet Train, which sees him starring opposite Brad Pitt and Sandra Bullock.
In his speech, the 32-year-old Kick-Ass, Anna Karenina and Nocturnal Animals star said that he was "incredibly grateful for this opportunity and the acknowledgment of what I love doing the most" and added that the excellence award "only restores my faith in my choices and the direction I'm heading and, most importantly, myself."
He had begun his speech by admitting that he genuinely didn't follow how his his career was viewed from the outside.
"Honestly, I am in my own little bubble, my wife, my daughters, my fatherly duties. Sometimes, people ask me what I do and I say 'I'm a dad and do acting on the side - part-time."
"But recently, though, I have been feeling a shift. I am trying to grow into these shoes where I'm proud to celebrate the acting. These movies, these roles I play are also my choice in life. They are my passion, my loves - so when I receive this accolade […] I have to reflect on what it is that has brought me to this very moment."
Taylor-Johnson's appearance in Locarno to accompany the opening night's choice of film and a surprise video message from fellow actor Brad Pitt and director David Leitch to a packed Piazza was timed to give an additional promotional boost for Sony Pictures' release of Bullet Train in cinemas in the German and French-speaking parts of Switzerland today (August 4).
Meanwhile, Olivier Père and Carlo Chatrian are among five of Locarno Film Festival's past artistic directors who will make a special appearance on the Piazza Grande stage as part of the festival's 75th anniversary celebrations tonight.
Père, who held the post from 2009 to 2012, and his successor Chatrian, who headed up the festival team from 2012 to 2018, will be joined by three of their predecessors - Jean Pierre Brossard (1978-1981), David Streiff (1982-1991) and Frédéric Maire (2005-2009).
This will come ahead of the presentation of the lifetime achievement award to US actor Matt Dillon and the world premieres of Leon Prudovski's My Neighbour Adolf and a Postcard From The Future short film by Andrea Staka, the controversial Golden Leopard winner for Das Fräulein in 2006.