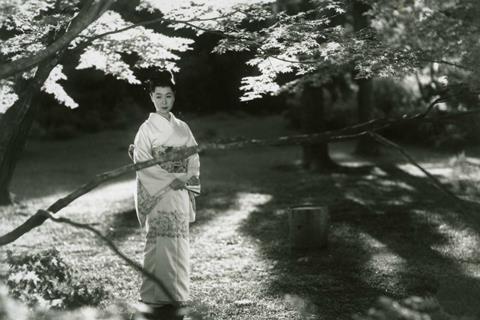 The Locarno Film Festival will celebrate the work of Japanese director and actress Kinuyo Tanaka at its upcoming 73rd edition (August 5-15), in its first ever retrospective dedicated to a female artist.
Tanaka (1909 –1977) was a pioneering figure in Japanese cinema throughout her 50-year career, appearing in the films of legendary directors Yasujiro Ozu and Kenji Mizoguchi before striking off to direct her own films.
"This is the first time that the festival will be dedicating its retrospective to a female director, after 73 years," said Locarno Film Festival artistic director Lili Hinstin, who is embarking on her second edition at the helm.
"On the one hand, this undoubtedly reflects a process of growing collective awareness over the past two years - the issue of how women are represented is now of crucial importance in both cultural and economic terms," she continued.
At the same time, she added, it also raised the question of how an artist like Tanaka – with such "an original and exciting filmography" had been overlooked for so long.
Tanaka first rose to fame in the 1920s, initially working under contract for the Shochiku Film Company, the film department of which is celebrating its centenary this year. There, she collaborated with Japan's best-known "modernist" directors such as Heinosuke Gosho, Ozu and Hiroshi Shimizu.
In the years immediately after World War Two and the 1950s, her striking screen presence became a hallmark of some of the best work by directors of the golden age of Japanese cinema, including Keisuke Kinoshita, Mikio Naruse and Kaneto Shindo.
She also renewed her collaboration with Ozu but her most important artistic partnership was with Mizoguchi, with whom she made 14 films, including the 1952 drama The Life Of Oharu (Saikaku ichidai onna), which premiered at the Venice Film Festival, winning best international film.
Around this time, Tanaka also started going behind the camera to direct a number of films of her own with various studios. At the time, she was only the second women in the history of Japanese cinema to direct after Tazuko Sakane.
Locarno likened her career trajectory to Hollywood actress Ida Lupino, who made her name on the big screen before moving into directing. It added, however, that Tanaka's work was very different from that of Lupino, describing her six features films as "innovative portraits of women's roles and conditions in the changing social environment of modern Japan". The retrospective will screen Tanaka's complete filmography as a director as well as a selection of 250-odd films in which she appeared.
Roberto Turigliatto, who is a long-time member of Locarno's artistic staff and has overseen many of its retrospectives, is curating the retrospective.
He noted the festival's past Japanese cinema-themed retrospectives devoted to Akira Kurosawa (1957), Yasujiro Ozu (1979), Mikio Naruse (1983), Keisuke Kinoshita (1986) and the Manga universe (2009).