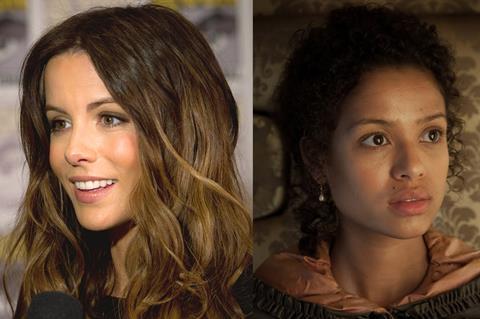 French film production and financing company Logical Pictures has boarded Adewale Akinnuoye-Agbaje upcoming drama Farming, starring Kate Beckinsale, Damson Idris and Gugu Mbatha-Raw.
The debut feature of Adewale Akinnuoye-Agbaje (Lost, Suicide Squad), Farming draws on the Nigerian-British actor-filmmaker's own experiences growing up with white working-class foster parents in the UK.
Logical Pictures has joined as an equity partner alongside actor-filmmaker Andrew Levitas, who is on board the project under his Rogue Black banner. HanWay Films handles international sales.
"We've put up roughly one third of the budget," said Logical Pictures co-founder Fréderic Fiore.
Fiore and fellow Logical Pictures co-founder Alexis Perrin are at TIFF this year for the premiere of French director Coralie Fargeat's US-set thriller Revenge in Midnight Madness. The company gap-financed the film on the eve of the shoot.
The Farming deal was initiated at Cannes this year through conversations with producers Michael London and Janice Williams at Groundswell Productions and former Pathé UK chief Francois Ivernel at Montebello Productions, said Fiore.
Logical Pictures launched at Cannes 2016 and closed a €20m financing round earlier this year, pulling together investment for 30 features over a four-year period.
The aim is to gap finance 20 pictures initiated by third-party producers and develop another 10 productions in house. Other third-party investments to date include Pascal Laugier's upcoming horror thriller Incident In A Ghost Land, in which Logical invested €1m.
The company's focus is on elevated sci-fi, fantasy or thriller genre productions, involving new talent, but it is open to other genres.
"Farming is our first big drama investment and it's an exciting development for us," said Fiore.
He and Perrin will be on the hunt at TIFF for a strong North American project in which to invest. "It is one of our objectives while we're there," said Perrin.
In-house slate
In-house productions on the Logical slate include a sci-fi series – consisting of three 10-minute episodes – from directorial duo Raphaël Hernandez and Savitri Joly-Gonfard, who operate under the joint name of Seth Ickerman. The project is due to shoot in mid-October and Logical is also developing the duo's debut feature, futuristic action picture Ickerman.
The company is also gearing up for the shoot of Eric Cherrière's medieval western No Gods No Masters, in southwest France this October. Manuel Chiche at The Jokers has acquired French rights.
Palestinian actor Saleh Bakri stars as a mysterious Arab stranger who comes to the rescue of an oppressed French village, facing off against a cruel local lord who once led Crusader campaigns in the Holy Land.