In a move that further enhances the arts profile of Los Angeles, Mayor Eric Garcetti announced on Wednesday the city will house the Lucas Museum Of Narrative Art.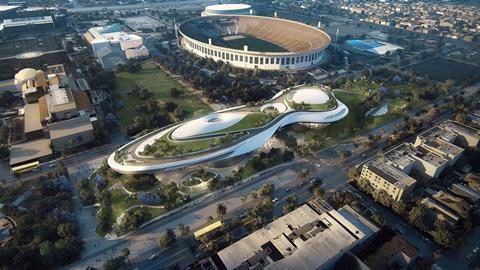 The $1bn development is set to open on May 4, 2020, according to L.A. Mayor Eric Garcetti. It will be located in the Exposition Park area near to the Los Angeles Memorial Coliseum and seeral existing museums.
Authorities in San Francisco, which is closer to Lucas's Skywalker Ranch in Marin County, also bid to host the new facility. Lucas has roots in Los Angeles: he attended USC, which is situated in the Exposition Park area, and originally founded Industrial Light & Magic in the Valley, north of Hollywood.
The Lucas family will pay for the project in its entirety. While it is understood there will be some Star Wars memorabilia, the site will not be dedicated to the franchise; rather it will house Lucas's collection of art and film memorabilia and celebrate storytelling.
Garcetti called the museum "a new jewel" in a press conference and added that Hollywood executive Jeffrey Katzenberg had played an important behind-the-scenes role in lobbying for Los Angeles.
"After extensive due diligence and deliberation, the Board of Directors of the Lucas Museum of Narrative Art is pleased to announce plans to build the museum in Exposition Park in Los Angeles," the museum's board of directors said in a statement.

"We have been humbled by the overwhelmingly positive support we received from both San Francisco and Los Angeles during our selection process. Settling on a location proved to be an extremely difficult decision precisely because of the desirability of both sites and cities."
Los Angeles Supervisor Mark Ridley-Thomas said in November the project would create around 1,500 construction jobs and 350 permanent jobs. The building design is by Chinese architect Ma Yansong.
This will be the second anticipated arts museum heading to Los Angeles after the Academy Museum, which is on course to launch in late 2018 next to the Los Angeles County Museum Of Art.