Stuart Ford's independent powerhouse is in talks on a TV project with Mexican partners Canana and Colombian director Ciro Guerra as his company looks to expand its small screen activities in the region by next year.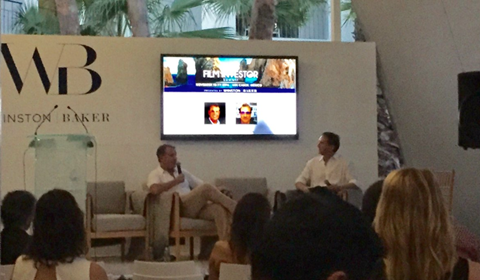 The development emerged at the Los Cabos International Film Festival's Film Investor Summit, where Ford took part in an on-stage keynote presentation with Screen International.
Speaking before the session on Thursday evening, Ford told Screen he had sat down in Los Cabos to discuss ideas with Guerra, whose The Embrace Of The Serpent earned a foreign language Oscar nomination for Colombia last season.
No further details were forthcoming at time of writing. However the talks are indicative of IM Global's desire to push into Latin American TV, which Ford described as "the missing piece of the jigsaw".
During the keynote Ford noted how Mundial, the Latin American sales venture launched four years ago with Canana, the production company owned by Pablo Cruz, Gael Garcia Bernal and Diego Luna, has exceeded his expectations.
Los Angeles-based Mundial has enjoyed regional and global success with titles such as The Liberator, A Wolf At The Door and The Vanished Elephant, and has seen broader success with a title like the comedy Gueros, Alonzo Ruizpalacios' 2015 Ariel Awards best picture winner that sold in more than 30 territories around the world.
The expansion of Latin American operations led to the launch last year of talent management and production outfit Valor Entertainment Group with talent managers Carlos Bobadilla and Brandon Guzmán.
As Mundial has become a Netflix aggregator, Ford noted a through-line that connects digital monetisation of non-English language content in both his Latin American and Chinese operations.
He touched on the recent investment in IM Global by Donald Tang's Tang Media Partners – Tang acquired a 60% stake at the start of the year – and how the capital injection and enhanced network of Chinese connections would enable his company to expand its reach.
He reiterated a sentiment made in a recent exclusive interview with Screen that the investment should not be regarded as a prelude to a solely China-centric business model.
While IM Global will move into Chinese TV production in 2017 and look at producing films, Ford said that making a film for the China market "is not the be-all and end-all."
"If we think a movie has global potential then whether or not it can work in China is a secondary consideration for us."
The critical take-away from Ford's keynote was his belief in the power of digital and how that will shape the market in the years to come, including fewer acquisitions teams.
"If you're looking ahead five, eight, ten years, the buyer for premium feature films made outside the Hollywood system will be the same buyer for premium TV drama and premium niche content – whether that is Spanish or Chinese-speaking – and volume (TV or film libraries)."