The president-elect can avert a potentially catastrophic cyber warfare if he translates his business skills to the geopolitical stage and cuts deals with Russia and China, filmmaker Oliver Stone said on Friday.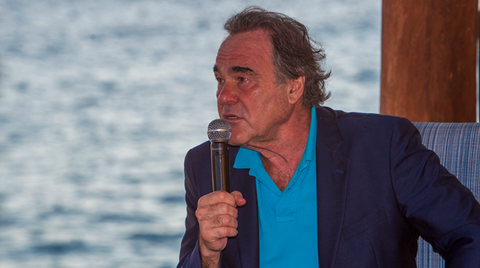 Speaking prior to the screening of Snowden at the Los Cabos International Film Festival, Stone was in a typically contrarian mood when asked to reflect on Donald Trump's shock US election victory and essentially said he had the power in his hands to prevent World War Three.
"I don't think anyone knows what's going to happen… everybody is so terrified of Trump; they've said that all over Europe and all over the world," he told festival director Alonso Aguilar Castillo during an on-stage conversation.

"It might not be quite as dramatic as that. It will be a lot more consolidated and conservative at first. He's a rebel: in some areas we can look optimistically. He's a smart man that doesn't want war."

Had Hillary Clinton won the presidency, Stone believes the Democrat candidate's endgame would have been regime change in Russia, ramping up tensions with a defiant Vladimir Putin and setting the US on a "warpath to World War Three".
"I hope [Trump] has the good sense as a businessman who cuts deals to cut deals with Russia and China and that will be better for everybody than this uncertainty."
'We've hacked into all your elections. This situation is worldwide'
The filmmaker returned to familiar territory when he said the biggest danger the world faced was the unchecked might of the US, its arsenal of illegal surveillance tools and the prospect of all–out cyber warfare.
"People ask me if I'm worried about Trump. How the fuck can you be worried about Trump when this thing is about to blow any day? The threat is here, it is now, it is not tomorrow, and if Trump is the smart business man we thing he is he will try to curb it."
On the subject of Mexico – a country he said he was delighted to return to – Stone noted that US surveillance apparatus had been in place possibly as early as the 1940s. "We've hacked into all your elections. This situation is worldwide."

Appearing to contradict his earlier hopeful remarks about international alliances, he noted how the implementation of seemingly harmless technology in friendly nations by the US could eventually be used against them. "To be an ally to the US is a very dangerous thing for Mexico and Brazil.
'This is the Game Of Thrones'

"This is the Game Of Thrones. The US is very good at soft power… very manipulative… no war as much as possible. It makes the world much more dangerous unless we have treaties with each other and respect each other's regimes."
Stone recounted his difficulty in getting Snowden made and said every major studio passed, a subject he has talked about before. Open Road eventually picked up US rights to the film, but the reflection allowed him to segue into another favourite topic – corporate power.

He was troubled by AT&T's proposed acquisition of Time Warner and the potential impact that would have on the culture at Warner Bros, a studio where he has enjoyed several collaborations.
"They always gave me a good amount of freedom," he said. "For me they were a good company. Now if they get owned by AT&T, which collaborates with the government – hopefully not. This is the end of free speech."
The perils of corporate control

Stone said a culture change at the studio would manifest itself not through blunt statements of control; rather through a withdrawal from making certain films.
"It comes subtly – it's soft power. When you have a world that's corporate-owned you're going to get nothing… you just get one voice. It's a global capitalist voice."
On a less political note, Stone was evidently happy to be back in Mexico, where he had a good experience shooting Salvador in 1985.
He praised the country's roster of powerhouse film talent and name-checked collaborator and DoP Rodrigo Prieto – who earlier in the week called for compassion in the wake of Trump's election – as well as Alfonso Cuaron, Alejandro G. Iñárritu and Guillermo del Toro. "Right now they're at the top of their game."

Later on he added: "Look at Iñárritu – two Oscars for Christ's sake. That's as many as I got."
That got a laugh at last, as did a parting remark on the man everybody is talking about.
"I told a journalist if Trump gets elected I would eat my shirt, so I am really fucked because I will have to find a short to eat."