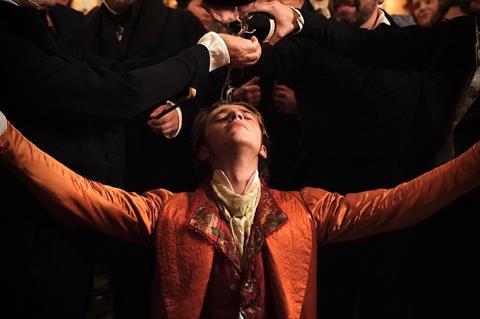 Xavier Giannoli's literary adaptation Lost Illusions leads the nominations of the 27th edition of France's Lumière awards, followed by Audrey Diwan's Venice Golden Lion winner Happening and Arthur Harari's Onoda, 10,000 Nights In The Jungle.
The awards, which are voted on by 95 international correspondents hailing from 36 countries this year, are France's equivalent of the Golden Globes.
Giannoli's adaptation of Honoré de Balzac's eponymous 19th-century novel, which premiered in competition in Venice this year, was nominated in five categories including best film, director, screenplay, actor (Benjamin Voisin) and cinematography (Christophe Beaucarne).
Happening and Onoda, 10,000 Nights In The Jungle, which world premiered in Cannes Un Certain Regard, came in joint second with four nominations each, including in the best film and director categories.
Cannes 2021 Palme d'Or winner Titane did not pick up any nominations for director and writer Julia Ducournau but Vincent Lindon was nominated for best actor and Agathe Rouselle for best new actress.
The Lumiere ceremony will take place on January 17.
Full list of nominations:
Best film
Annette, dir. Leos Carax
Peaceful, dir. Emmanuelle Bercot
Happening, dir. Audrey Diwan
Lost Illusions, dir. Xavier Giannoli
Onoda, 10,000 Nights In The Jungle, dir. Arthur Harari
Best director
Jacques Audiard, Paris, 13th District
Leos Carax, Annette
Audrey Diwan, Happening
Xavier Giannoli, Lost Illusions
Authur Harari, Onoda, 10,000 Nights In The Jungle
Best screenplay
Antoine Barraud, Madeleine Collins
Leyla Bouzid, A Story Of Love And Desire
Catherine Corsini, The Divide
Xavier Giannoli, Lost Ilusions
Arthur Harari, Vincent Poymiro, Onoda, 10,000 Nights In The Jungle
Best actress
Suliane Brahim, The Swarm
Virginie Efira, Benedetta
Valérie Lemercier, Aline
Sophie Marceau, Everything Went Fine
Anamaria Vartolomei, Happening
Best actor
Damien Bonnard, The Restless
André Dussollier, Everything Went Fine
Vincent Lindon, Titane
Benoît Magimel, Peaceful
Benjamin Voisin, Lost Ilusions
Best new actress
Zbeida Belhajamor, A Story Of Love And Desire
Aïssatou Diallo Sagna, The Divide
Daphné Patakia, Benedetta
Agathe Rousselle, Titane
Lucie Zhang, Paris, 13th District
Best new actor
Alseni Bathily, Gagarine
Abdel Bendaher, Ibrahim
Sami Outalbali, A Story Of Love And Desire
Thimotée Robart, Magnetic Beats
Makita Samba, Paris, 13th District
Best first film
Gagarine, dirs. Fanny Liatard, Jérémy Trouilh
Ibrahim, dir. Samir Guesmi
Magnetic Beats, dir. Vincent Maël Cardona
The Swarm, dir. Just Philippot
Skies Of Lebanon, dir. Chloé Mazlo
Best documentary
Nine Days In Raqqa, dir. Xavier de Lauzanne
Delphine And Carole, dir. Callisto Mc Nulty
Gallent Indies, dir. Philippe Béziat
Le Kiosque, dir. Alexandra Pianelli
The Velvet Queen, dirs. Marie Amiguet, Vincent Munier
Best animation film
Pil's Adventures, dir. Julien Fournet
Princess Dragon, dirs. Anthony Roux, Jean-Jacques Denis
The Summit Of The Gods, dir. Patrick Imbert
The Crossing, dir. Florence Miailhe
Around The World In 80 Days, dir. Samuel Tourneux
Best international co-production
February, dir. Kamen Kalev
Petrov's Flu, dir. Kirill Serebrennikov
The Worst Person In The World, dir. Joachim Trier
The Father, dir. Florian Zeller
Best cinematography
Christophe Beaucarne, Lost Illusions
Romain Carcanade, The Swarm
Caroline Champetier, Annette
Tom Harari, Onoda, 10,000 Nights In The Jungle
Laurent Tangy, Happening
Best soundtrack
Amine Bouhafa, The Summit Of The Gods
Warren Ellis, Nick Cave, The Velvet Queen
Evgueni Galperine, Sacha Galperine, Amine Bouhafa, Gagarine
Ron Mael, Russell Mael, Sparks, Annette
Jim Williams, Titane