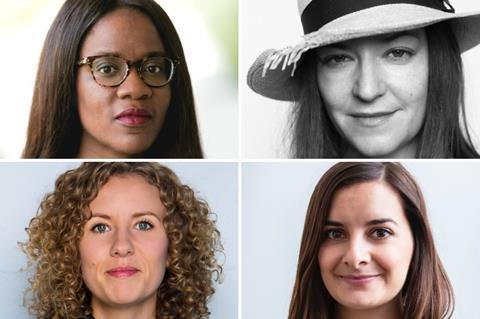 The Writers Lab UK and Ireland, the international offshoot of the script development program for woman and non-binary writers over 40, has unveiled its first cohort of screenwriters and projects.
The non-profit organization, that counts Meryl Streep and Nicole Kidman among its supporters, has selected 12 participants that will take part in the lab, set to take place online from June 10-13, with additional sessions spread over the following five months.
Scroll down for the full list of participants
Due to the significant number of writers who applied, a further 12 "finalists" will receive a scaled-back version of the programme, including one-to-one sessions with the high-profile mentors who have volunteered to take part.
These include UK filmmaker Lynne Ramsay, who won the best screenplay award at Cannes with You Were Never Really Here in 2017, and has newly joined the initiative. Previously announced mentors include Tanya Qureshi, producer of I May Destroy You and now commissioning editor for BBC Comedy; How To Get Away With Murder screenwriter Abby Ajayi; actor and producer Ruth Wilson; and Captain Marvel screenwriter Meg LeFauve.
Further mentors include producer Caroline Kaplan (Sorry To Bother You), Anne Hubbell (Keep The Change) and Shruti Ganguly (Initials SG, H.); writer/producers Jenny Halper (American Honey), Angela Kang (The Walking Dead), Kayleigh Llewelyn (In My Skin) and Maria Maggenti (Motherland); writer and filmmaker Lindsey Dryden (Unrest); writer Deborah Goodwin (Snaeland); and writer and actor Sharon Horgan (Motherland).
The Writers Lab UK and Ireland is produced by TWL co-founders Elizabeth Kaiden and Nitza Wilon with Untamed Stories in the UK, led by Julia Berg and Ruth Spencer. It is presented with support from Cate Blanchett's Dirty Films, in association with Birds' Eye View and New York Women in Film and Television, as well as Screen Scotland, Screen Skills Ireland, Northern Ireland Screen, Ffilm Cymru Wales and BFI Network with funding from the National Lottery.
On taking place virtually, Berg and Spencer said in a joint comment: "We always knew that it was important to us all that we structure it in a way to ensure access for a truly diverse range of writers from across all regions of the UK and Ireland… We've found a myriad of narratives from women over 40 whose voices need amplifying."
The US incarnation of the programme was founded in 2015.
The Writers Lab UK & Ireland 2021 participants
Claire Barclay, Return Her (½-hour drama, England)
Alice Clark, The Munitionettes (1-hour drama, Scotland)
Angela Franklyn, Mozart's Don Jane (feature, drama, England)
Kit Hui, Black Dust (feature, drama, England)
Rachel Mars, Slacks (½-hour comedy, England)
Catherine McGrotty, Off Season (½-hour fantasy, N. Ireland)
Anna Merritt & Deborah Wiseman, Is This It? (½-hour comedy, Ireland)
Lydia Mulvey, Solas (½-hour sci-fi, Ireland)
Sylvia-Anne Parker, 600 Steps (feature, drama, England)
Leyla Pope, One Last Holiday (feature, drama, Wales)
Dorothy Jane Stewart, The Story of Me and You (feature, drama, Scotland)
Ali Taylor, My Boy (1-hour drama, Scotland)
The Writers Lab UK & Ireland 2021 finalists
Litza Bixler, Blood, Water, Dust (1-hour horror, England)
Mai Davies, Prime (1-hour drama, Wales)
Liz Gill, English Rose (1-hour drama, Ireland)
Simone Glover, Dirt (feature, historical, England)
Vanessa Haynes, McIntyre (1-hour dramedy, N. Ireland)
Marie James, Great Swingford (feature, drama, England)
Kerena Marchant, Ben Johnson Day (½-hour drama, England)
Niamh O'Connor, A Murder of Crows (1-hour drama, Ireland)
Stella Papamichael, Green Lanes (1-hour thriller, England)
Jenny Roche, Dysphoria (feature, dramedy, Ireland)
Carolyn Saunders & Shelagh McLeod, Invisible (1-hour sci-fi, England)
Jaye L. Swift, The Lost Beacon (feature, horror, Wales)