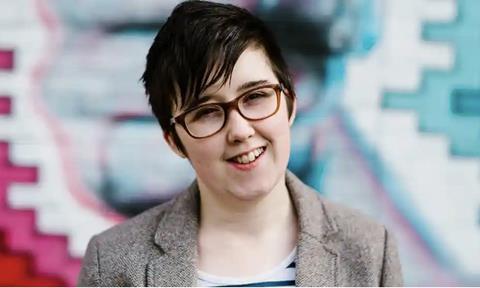 Wildcard Distribution has acquired theatrical rights to documentary Lyra in Ireland and the UK, and Cinephil has signed on for international sales.
The documentary, which had its UK premiere last night (June 26) at Sheffield DocFest, traces the life and death of Northern Irish investigative journalist Lyra McKee.
McKee's journalism highlighted the consequences of the Troubles, seeking justice for crimes that had been forgotten since the Good Friday Agreement. She was murdered by dissident Republicans in 2019.
Directed by BAFTA-winning Alison Millar, the documentary uses hours of voice recordings from McKee's mobile, computer and Dictaphone, telling her story through her own work and words. Lyra won the Audience Award at the Cork Film Festival.
Lyra is produced by Erica Starling Productions for Channel 4 in association with TG4, HiddenLight Productions and Northern Ireland Screen. It is produced by Jackie Doyle and Alison Millar for Erica Starling Productions and executively produced by Siobhan Sinnerton, Edward Watts, Greg Darby, Andrew Eaton, Louisa Compton and Hillary and Chelsea Clinton.
Former US Secretary of State Hillary Rodham Clinton and executive producer for HiddenLight said: "With the Good Friday Agreement under threat, the film could not be more timely and is an important watch for anyone concerned about peace in Northern Ireland."
Wildcard Distribution will bring Lyra to Irish and UK cinemas later this year.
Wildcard's recent slate of Irish titles includes Black 47, The Young Offenders, Cardboard Gangsters, Deadly Cuts and the Oscar-nominated animation Wolfwalkers.
Cinephil's sales slate includes Oscar-nominated animation Flee and Jane Campion The Cinema Woman.