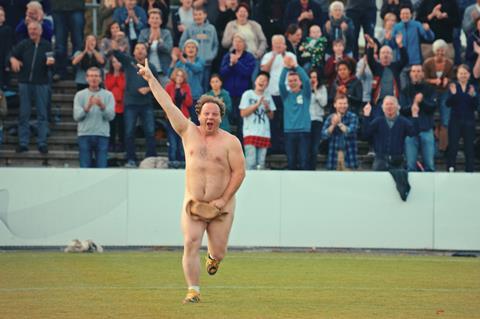 Berlin-based sales outfit M-appeal has added Swiss comedy Streaker (Flitzer) to its sales slate.
Directed, written and produced by Peter Luisi, the film follows a high school teacher who, in the midst of a financial crisis, begins recruiting and training streakers (i.e. people who remove their clothes and invade a sports event) for illegal sports betting.
The film's Swiss cast includes Beat Schlatter, Doro Müggler and Bendrit Bajra.
M-appeal has taken world rights excluding Germany, Switzerland, Austria.
Streaker had its Swiss release in October, where it charted second behind The Snowman in its second week. It was released on Thursday (Nov 16) in Germany via distributor X-Verleih.
David Luisi was also a producer on the project for Swiss outfit Spotlight Media Production AG, which he co-owns with Peter Luisi.
M-appeal previously handled sales on the pair's 2014 comedy-drama Unlikely Heroes, which won the audience award at the Locarno International Film Festival.
"After our previous collaboration, I am more than happy to know that my new endeavour – Streaker – is in the hands of the excellent and passionate m-appeal world sales," commented Peter Luisi.
Maren Kroymann CEO of m-appeal added: "We are very happy to work again with Peter Luisi and we were immediately convinced of the universal appeal of the film. It is such a hilarious and crowd-pleasing comedy about the most absurd phenomenon in the soccer world."