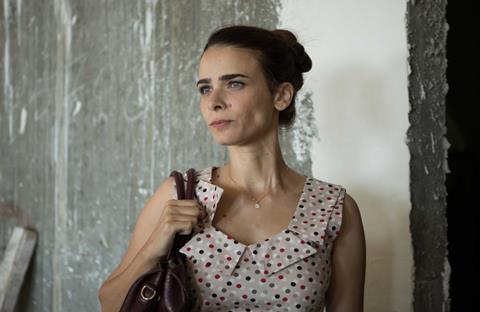 Berlin-based sales outfit M-Appeal is continuing to rack up sales on two titles that are screening here in Busan – Israeli filmmaker Michal Aviad's Working Woman, which is playing in Flash Forward, and Ash Mayfair's debut feature, The Third Wife, screening in A Window On Asian Cinema.
Working Woman, which tells the story of a working mother having to cope with an abusive new boss, has been sold to France (KMBO) and Benelux (Arti). Warmly received at Toronto International Film Festival following its premiere in Jerusalem, the film was also recently sold to the US (Zeitgeist/Kino Lorber).
M-Appeal is in talks for further deals on the critically-acclaimed title, which was produced by Israeli outfit Lama Films. Liron Ben Shlush plays the woman who has to fend off advances from her lecherous boss, played by Menashe Noy.
"Working Woman was one of our great discoveries at this year's TIFF. We were fascinated by the masterful direction and the remarkable main actress. The subject matter is universal and extremely relevant today. Giving the film a tailor-made theatrical release, involving associations and roundtable discussions, we feel honoured to contribute to the journey of this important gem," said KMBO boss Vladimir Kokh.
Meanwhile, M-Appeal has also sold The Third Wife to Edko Films for Hong Kong, where it will be given a theatrical release next spring, and Anticipate Pictures for Singapore, which will work with Astro on a theatrical outing early next year. Eureka Entertainment has also acquired The Third Wife for UK/Ireland and plans to release it in 2019 under its Montage Pictures label. Mexico's Alfhaville Cinema has also acquired the film, which was previously sold to the US, Korea, Taiwan and Spain.
Set in 19th century rural Vietnam, The Third Wife follows a 14-year-old girl who becomes the third wife of a wealthy landowner. She quickly becomes pregnant with what she hopes will be a male child, but begins to learn complex lessons about love, sex and female independence.
Nu Yên-Khê Tran (The Scent Of Green Papaya) co-stars as the landowner's first wife. At Toronto, the film picked up the NETPAC Award for World or International Asian Film Premiere.
"The film is an exquisite gem, and it is unusual to see a film director able to achieve this level of atmosphere and mastery of the craft in their debut feature," said Anticipate Pictures CEO Vincent Quek.