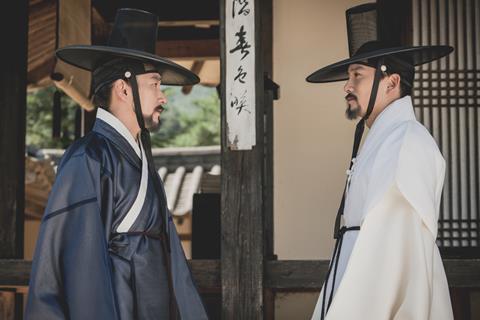 South Korean sales company M-Line Distribution has announced a raft of deals led by Park Hee-gon's period drama Feng Shui and Lee Joon-ik's Sunset In My Hometown, which is screening in Busan's Korean Cinema Today - Panorama section.
Starring Cho Seung-woo, Ji Sung and Kim Sung-kyun, Feng Shui sold to Taiwan (Long Shong) and North America (The Korea Daily) where it will open today (October 5) in 21 cities.
The film had a local release on September 19 and has clocked up more than 2 million admissions, according to the Korean Film Council (KOFIC). M-Line will have a market screening in Busan for the film on October 7.
Starring Park Jung-min as an underground rapper who reluctantly returns to his hometown where he reunites with an old schoolmate played by Kim Go-eun, Sunset In My Hometown has sold to Japan (Klockworx), Taiwan (Movie Cloud), North America (The Korea Daily), China (Jetsen Huashi Wangju Culture Media) and Hong Kong, Malaysia, Singapore, Indonesia, the Philippines and Thailand (CJ E&M).
Director Kim Ui-seok's drama After My Death has sold to France (Capricci) where it will be released in theatres on November 22. It has also sold to Astro for Brunei, Cambodia, East Timor, Indonesia, Laos, Malaysia, Myanmar, the Philippines, Singapore, Thailand and Vietnam.
The film stars Jeon Yeo-bin, Seo Young-hwa, Ko Won-hee and Yu Jae-myeong in a story surrounding the unexplained death of a high school girl.
Jeon Go-woon's drama Microhabitat, which won the CGV Arthouse Award last year in Busan and went on to win awards at a slew of other festivals, has sold to Cambodia, Indonesia, Laos, Malaysia, Myanmar, Nepal, the Philippines, Singapore, Sri Lanka, Thailand and Vietnam (MATV), China for TV and internet rights (Time-In-Portrait Entertainment) and in-flight rights (GEE).
M-Line Distribution has a total of eight films in Busan's official selection this year including Clean Up in the New Currents competition and Memories Of A Dead End in the Panorama section, in addition to Sunset In My Hometown.
The company also has Young-ju, Our Body and A Boy And Sungreen in the the Korean Cinema Today – Vision section and Jung Sung-il's documentary duo on master director Im Kwon-taek, Gravity Of The Tea and Cloud, Encore in Wide Angle.