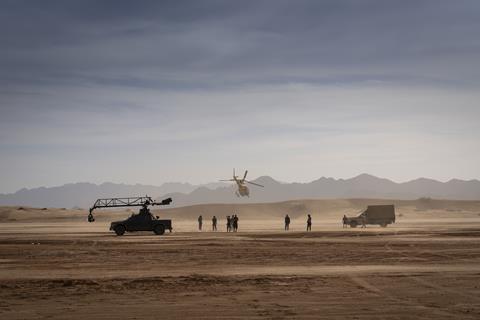 Iain Smith, the UK producer of Mad Max: Fury Road and Children Of Men, is to help run a filmmaking boot camp for rising talent in Saudi Arabia as part of a new training initiative.
The UK's Creative Media Skills Institute has partnered with Saudi agency Film AlUla to host a 10-day training programme in northwest Saudi Arabia from February 26.
Smith is among those who will travel to AlUla next month to help educate 25 trainees from the region, who are exploring careers in production and assistant directing as well as in the art, locations, costume, make-up and hair departments.
Smith is a Bafta award-winning producer whose more recent credits include Netflix series The Sandman and upcoming John Wick spin-off The Continental. He is also chair of the British Film Commission's national advisory board.
He will be joined by Ailie Smith, CEO of the Creative Media Skills Institute, who is known for her work as a makeup artist on the Harry Potter franchise, Prince Of Persia, Troy, Cold Mountain and Mad Max: Fury Road.
Further trainers include Terry Bamber, an assistant director whose credits include 101 Dalmatians and Netflix series Bridgerton; and director David Anderson, who also participates in outreach initiatives training young people from underprivileged backgrounds in filmmaking.
The boot camp is part of a series of initiatives supported by Film AlUla to build a skilled workforce and attract inward investment to the region.
AlUla opened to international production in 2020 and has hosted the shooting of five feature films as well as 35 TV series, 33 documentaries and 55 commercials. These include Ric Roman Waugh's Kandahar, starring Gerard Butler, which is set for release this year and was the first major Hollywood feature to shoot almost entirely in AlUla.
Construction of an ambitious studio complex in AlUla has also begun, with plans to complete the first phase by the end of 2023.
Major efforts are being taken to attract international productions to Saudi Arabia and a 40% cash rebate was announced by the Saudi Film Commission at Cannes in May.