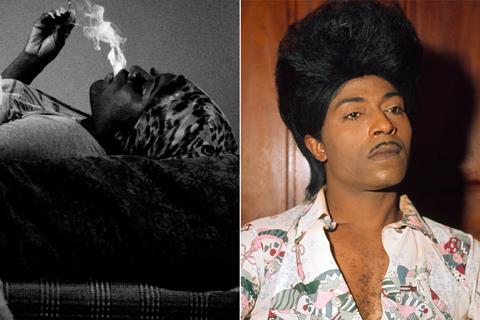 Magnolia Pictures International has secured key territory deals on two Sundance favourites – double prize winner Kokomo City and opening night documentary Little Richard: I Am Everything.
Kokomo City, the feature directorial debut of producer, singer and songwriter D. Smith, has sold to the UK (Dogwoof), Scandinavia-Baltics-Iceland (Nonstop Entertainment) and Benelux (Periscoop), with offers received for Spain and Israel.
The documentary won the audience and innovator awards in the Next section at Sundance, going on to an international premiere in Panorama Dokumente at the Berlinale this past Tuesday (February 21).
The film focuses on four Black transgender sex workers in Atlanta and New York City, as they break down the walls of their profession. Magnolia will release the title theatrically in the US later this year, followed by Mongrel releasing in Canada.
It is executive produced by Master Of None star and writer Lena Waithe, who previously wrote and co-produced Melina Matsoukas' 2019 Queen & Slim. Producers are Smith, Harris Doran and Bill Butler, with Rishi Rajani, Stacey Barthe and William Melillo as further executive producers.
Smith previously made history as the first openly transgender woman cast on a primetime unscripted series in the US. She is a two-time Grammy-nominated record producer, singer and songwriter.
Little Richard sings
Magnolia has also secured sales on Lisa Cortes' Little Richard: I Am Everything, which played on the opening night of Sundance 2023 in the US Documentary Competition strand. The film has been acquired during the European Film Market for France and German-speaking Europe (Plaion Pictures), Scandinavia-Baltics-Iceland (Nonstop Entertainment), Benelux (Periscoop) and Canada (Mongrel). Further offers for the UK, Australia-New Zealand, Spain, Israel and worldwide airlines are on the table; Magnolia will release in the US on April 21.
Little Richard: I Am Everything tells the story of the Black queer origins of rock 'n' roll, through the figure of innovator Richard Penniman – stage name Little Richard. An influential figure on acts including Elvis and The Beatles, Penniman played and recorded throughout the 20th and early 21st centuries, until his death in 2020 aged 87.
The film is produced by Cortes, Robert Friedman, Liz Yale Marsh and Caryn Capotosto. It is executive produced by Mike Powers, Anita May Rosenstein and Dee Rees; Jason Fine and Gus Wenner for Rolling Stone Films; and Amy Entelis and Courtney Sexton for CNN Films.
HBO Max is an executive producer and holds US and international SVoD streaming rights to the film.
Magnolia's current slate also includes Gianfranco Rosi's Pope Francis documentary In Viaggio, Georgia Oakley's UK indie hit Blue Jean and Paul Schrader's Venice title Master Gardener.