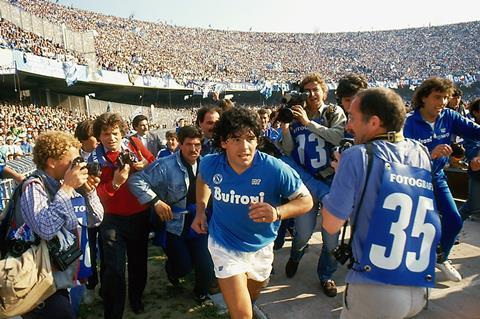 Maradona, the upcoming feature documentary about legendary football Diego Maradona, was the talk of Copenhagen after director Asif Kapadia screened a 'concept teaser' at CPH: DOX on Wednesday (March 27). He also revealed he had turned down "a really big number" from a digital platform to take the project upfront for the world.
"There were late night calls," the director recalled of the talks around the deal, adding a lot of people involved wanted to take the offer. "We hadn't even started the film yet. It was a question of do we go for it or not? I'm old school, old-fashioned, and I thought, 'This might be the last time I make a film for the big screen'."
The team decided to turn down that deal, made at the European Film Market in 2016, in favour of a traditional theatrical route.
Altitude, the film's UK distributor and international sales agent, recently dated Maradona for release in the UK and Ireland on June 14, sparking speculation the film is headed to a Cannes berth in May, possibly followed by Sheffield Doc/Fest in early June. Kapadia's Amy played Cannes in 2015, as a Midnight Screening, before travelling to Edinburgh in June. (This year's Edinburgh takes place after the scheduled UK release date.) That film went on to win the feature documentary Oscar in 2016.
Maradona will be in cinemas in the UK, though releases in other territories such as North America are yet to be confirmed.
Infamous footage
Kapadia was speaking at the CPH:DOX's Masters conference in the Danish capital. The early concept teaser featured footage of Maradona at the height of his footballing career and the height of his controversy.
The director recalled he had resolved never to do a sports film again following the arduous journey behind his 2010 doc Senna, when the film turned into a hit only following its screening at Sundance in 2011, several months after disappointing launches in Japan and Brazil.
He changed his mind when he was given the opportunity to access old footage from a documentary about Maradona that had originally shot in 1981 but was never completed. The material was being stored at an archive in Naples. "It was infamous," the director recalled. "We managed to get our hands on it, looked at it, and thought, 'He's a really interesting guy and his journey is incredible'. What he gets up to and what happens to him has much wider themes."
An adored player for Napoli and the Argentinian national team, Maradona's time in football also saw him fail several drug tests and face allegations of links to the Italian mafia.
Maradona has been a new challenge for the director because the film's subject is still alive, unlike the protagonists of Senna and Amy. "It was a different way of telling a story because he's still around and he's a big presence. How do you end it?" Kapadia posed.
Kapadia and his regular producer James Gay-Rees of London-based On The Corner first had to get access to Maradona's image rights. After working it out with his lawyers, they also secured three interviews with the man himself. "He liked Senna and that was one of the reasons we were able to get through the door," said Kapadia.
Figuring out the logistics of interviewing the mercurial footballer, who often stays in bed well into the afternoon, was also a challenge. Eventually, Kapadia realised that the best approach was to visit Maradona alone, accompanied only by a translator. It was also essential to secure interviews with the man himself to convince others to participate. "Most people said, if he's not onboard I don't talk to you."
However, after conducting an interview with Maradona, Kapadia realised he was an unreliable narrator to his own story. "There's a particular character in the film who is quite trustworthy, they told me, 'Just be aware you're going to be in the presence of the world's greatest liar.' We had to get past the BS, make him realise we were different [to other journalists conducting interviews]."
Maradona was rumoured to be heading to Cannes last year, but Kapadia revealed he was still in the edit in 2018 and wanted to make sure they got it right. "We took the time to screen it. We had six months after I cut the film to carry on. Time is the best thing and the [production] money is spent on time."