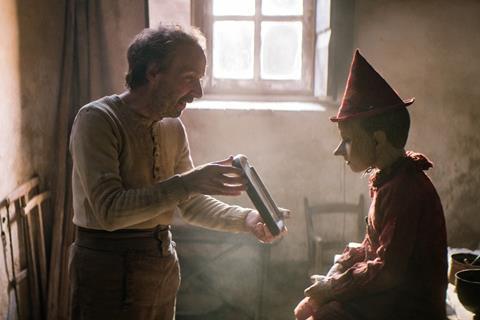 Roadside Attractions has acquired US rights from HanWay Films to Matteo Garrone's Pinocchio and is planning an awards-qualifying release.
The adaptation of Carlo Collodi's beloved novel premiered at the Berlinale earlier this year and stars Roberto Benigni as Geppetto, the woodcarver whose puppet creation magically comes to life and dreams of becoming a real boy.
Pinocchio, played by nine-year-old Federico Ielapi, gets caught up in a series of adventures that bring him into contact with bandits, the belly of a giant fish, the Land Of Toys, and the Field Of Miracles.
Garrone (Dogman, Tale Of Tales, Gomorrah) co-wrote the screenplay with Massimo Ceccherini and re-united with director of photography Nicolai Brüel, production designer Dimitri Capuani, costume designer Massimo Cantini Parrini, and editor Marco Spoletini.
Pinocchio filmed in Italy and is produced by Archimede's Garrone, Le Pacte's Jean and Ann-Laure Labadie, Recorded Picture Company's Jeremy Thomas, and Rai Cinema's Paolo Del Brocco. Executive producers are Alessio Lazzareschi, Peter Watson, and Marie-Gabrielle Stewart.
Benigni said: "I am truly happy that the American distributor Roadside Attractions loved Matteo Garrone's Pinocchio. This is excellent news for our cinema and for this film that I also love very much – a film full of imagination and hope, so wonderfully Italian, a story which for more than a century has enchanted, amused and moved people of all ages all over the world."
Roadside's Howard Cohen negotiated the deal with HanWay Films' Gabrielle Stewart.