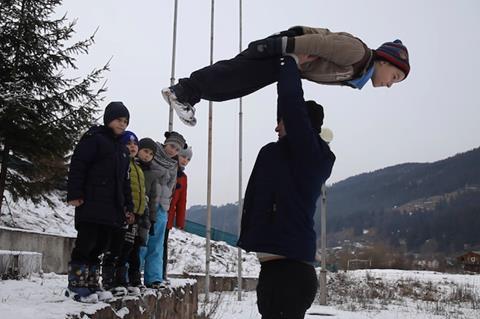 Elevation by Ukrainian director Max Rudenko has won the Docu Talent Award for most promising documentary project from Central and Eastern Europe, awarded during Saraejvo's Cinelink Industry Days.
The winner of the $5,000 prize was selected from the nine feature documentaries in the 2020 Docu Talents From The East programme, organised by Czech documentary festival Ji.hlava IDFF.
The projects hailed from Croatia, Czech Republic, Russia, Hungary, Poland, Romania, Slovakia and Ukraine, and are planned for theatrical release in the next 12 months.
Elevation is a Ukrainian-Romanian-Polish coproduction that tells the story of a passionate ski jumping trainer in the Carpathians. The jury praised the director's "light-hearted approach and his subjects' quest to overcome fear and self-doubt are both relevant and universal, particularly in these troubled times."
It is produced by the Ukraine's Paradox Film, Romania's Peripatos Film and Poland's Plesnar & Krauss Films.
The jury comprised Bulgarian producer Martichka Bozhilova, programme director of Taiwan IDF Wood Lin, Natalia Arshavskaya from Current Time TV, Filmmaker Magazine correspondent Tiffany Pritchard and Jarmila Outratová representing Ji.hlava IDFF.