EXCLUSIVE: Independent boards doc about the life and career of acting legend Ian McKellen.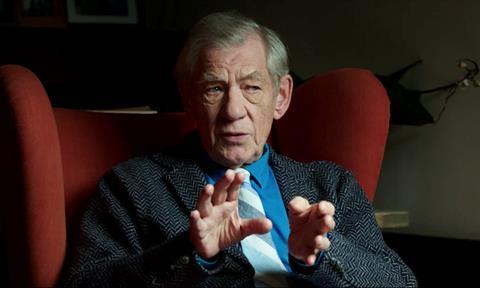 London-based sales and production outfit Independent has boarded feature documentary McKellen: Playing The Part and will introduce the title to buyers at Cannes.
Watch an exclusive first clip below, or click here to watch on mobile.
Joe Stephenson (Chicken) is directing the feature about the life of revered English actor Ian McKellen, whose career has spanned nearly 50 years and has seen him Oscar nominated for roles in Gods And Monsters and The Lord Of The Rings: The Fellowship Of The Ring.
The film, which is based around an exclusive 14-hour interview with McKellen, will also feature archive material of the actor's early work, and never-before-seen photography from McKellen's private collection.
English singer-songwriter Peter Gabriel has written music for the film, which also features the likes of Luke Evans, Frances Barber, Adam Brown, Scott Chambers, Milo Parker and Edward Petherbridge, who will appear in filmed sequences reconstructing parts of McKellen's early life.
Producers are Stephenson with Mark Birmingham, Lene Bausager and Sophia Gibber.
Currently in post-production, the film is financed by Great Point Media, with Lipsync Post Productions.
My Pure Land
Also on Independent's slate is My Pure Land, the directorial debut of Sarmad Masud.
Based on a true story, the film follows a young woman who, with her mother and sister, tries to defend her home after a bitter family feud leads to her father's incarceration. Cast includes Suhaee Abro, Eman Malik, Syed Tanveer-Hussain and Razia Malik.
Bill Kenwright produced the feature, which is currently in post-production. First footage will be screened at Cannes.
Further titles on Independent's slate that will receive market premieres at Cannes include Rupert Jones's Kaleidoscope and Thomas Napper's Jawbone.
Independent MD Andrew Orr commented: ''This is the first of several exciting announcements for us in Cannes this year.
"We're excited about the insight these films offer into two very different worlds - from an intimate look at the life of one of the world's greatest actors, taking him from the West End Stage to Hollywood, to a Malala like story of a young woman's extraordinary courage in the face of convention."