United States Of Love, Rams and Mustang will feature at the eighth edition of the festival; regional premiere of Mirjana Karanović's A Good Wife.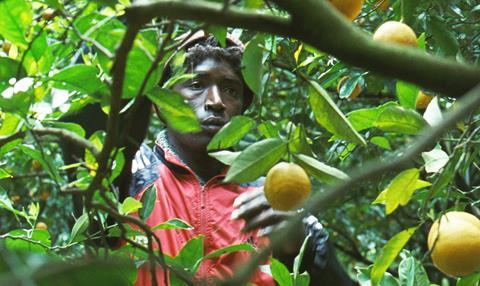 Scroll down for full line-up
The eighth Prishtina International Film Festival (April 22-29) will open with a screening of Jonas Carpignano's Mediterranea, which will compete as part of the event's European Film Competition.
Tomasz Wasilewski's Silver Berlin Bear-winning United States Of Love will also compete in the strand, as will Grímur Hákonarson's Cannes Un Certain Regard-winning Rams and Deniz Gamze Ergüven's Oscar-nominated Mustang.
Completing the line-up is Juris Kursietis' Modris, Carlos Marques-Marcet's 10,000 Km, and Swiss 10-part Sci-Fi anthology Heimtaland. The films will compete for the festival's Golden Goddess prize for best European film.
The Honey and Blood competition, which showcases Balkan titles, will this year feature nine films including Danis Tanovic's Silver Berlin Bear-winning Death In Sarajevo - which will close the festival with Tanovic expected to be in attendance - and the regional premiere of Mirjana Karanović's A Good Wife, which premiered at Sundance in January.
PriDocs, the festival's documentary strand, will feature ten films depicting a wide range of topics including the Palestine-Israel conflict (This Is My Land), the migrant crisis (On The Bride's Side) and wartime sexual violence against women (Making Of Thinking Of You).
The documentary programme will also host the world premiere of The Return, a film about Vanessa Redgrave's (now Prifest's president of the honorary board) visit to Kosovo in 1999 in the aftermath of the Kosovo War.
Redgrave organised a festival for returning refugees who had fled the country, along with Prifest's now artistic director Fatos Berisha, and invited artists including Philip Glass and Patricia Kaas to perform. The 60-minute film was shot at the time, but has never been broadcast until now, when director Adam Soch will be in attendance.
The LGBT Let It Be programme, curated with LA's Outfest, will feature screenings of Tom Hooper's The Danish Girl, Alantė Kavaitė's Summer Of Sangaile, and Jay Dockendorf's Naz And Maalik.
Special screenings at this year's event will include a triple Coen Brothers retrospective (The Big Lebowski, Fargo, No Country For Old Men), a David Bowie tribute screening of The Man Who Fell To Earth, and Laszlo Nemes' Oscar-winning Son Of Saul.
Previously, the festival revealed that it was launching an expanded industry programme in 2016.
Full line-up:
European Film Competition
United States of Love, Tomasz Wasilewski (Poland)
Rams, Grimur Hakonarson (Iceland, Denmark, Norway, Poland)
Modris, Juris Kursietis (Latvia, Germany, Greece)
10.000 KM, Carlos Marques-Marcet (Spain)
Mustang, Deniz Gamze Erguven (France, Germany, Turkey, Qatar)
Mediterranea, Jonas Carpignano (Italy, France, USA, Germany, Qatar)
Wonderland (Heimatland), Lisa Blatter, Gregor Freii, Jan Gassmann, Benny Jaberg, Carmen Jaquier, Michael Krummenacher, Jonas Meier, Tobias Nölle, Lionel Rupp, Mike Scheiwiller (Switzerland)
Honey and Blood (Balkan Film Competition)
A Good Wife, Mirjana Karanović (Serbia, Bosnia and Herzegovina, Croatia)
The High Sun, Dalibor Matanic (Croatia, Serbia, Slovenia)
Why Me?, Tudor Giurgiu (Romania, Bulgaria, Hungary)
Death in Sarajevo, Danis Tanovic (Bosnia and Herzegovina, France)
A Blast, Syllas Tzoumerkas (Greece, Germany, Netherlands)
Sivas, Kaan Müjdeci (Turkey)
The Judgement, Stephan Komandarev (Bulgaria)
Children from Marx and Engels Street, Nikola Vukcevic (Montenegro)
Our Everyday Life, Ines Tanović (Bosnia and Herzegovina, Slovenia, Croatia)
Middle Length Competition
The Trail, Elke Brugger (Germany)
Horn, Sungbin Byun (South Korea)
Free Party, Fred Gélard (France)
A Surplus of Wind, Dane Komljen (France, Bosnia and Herzegovina)
Shooting Star, Lyubo Yonchev (Bulgaria, Italy)
Larp, Kordian Kadziela (Poland)
The Sandwich Island Man, Levon Minasian (France)
Elegy, Yousef Kargar (Iran)
The Universe In Us, Lisa Krane (Germany)
The Last Act, Dina Duma (Macedonia)
The Rules of the Game, Wojciech Jagiełło (Poland)
PriDocs
Tashi Delek, Peeter Rebane (Estonia, China)
The Return, Adam Soch (USA)
Paths, Mevlan Shanaj (Albania)
Missing Times, Faysal Soysal (Turkey)
I Like That Super Most The Best, Eva Kraljević (Croatia)
The Network, Claudiu Mitcu (Romania, Hungary)
The Dangerous World of Doctor Dolecek, Kristýna Bartošová (Czech Republic)
On the Bride's Side, Antonio Augugliaro, Gabriele Del Grande, Khaled Soliman Al Nassiry (Italy, Palestine)
This is My Land, Tamara Erde (France)
Making of Thinking of You, Fitim Shala (Kosovo)