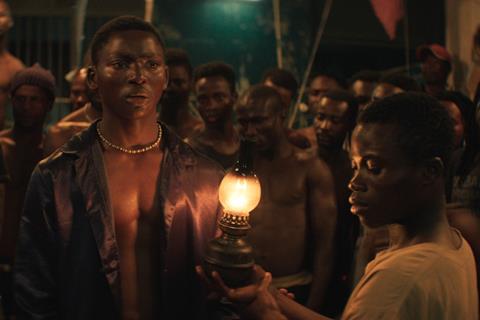 Paris-based sales company Memento Films International (MFI) has acquired Ivorian director Philippe Lacôte's Night Of The Kings, ahead of its world premiere in Horizons at the Venice Film Festival, running September 2-12 this year.
The Scheherazade-style tale revolves around a young pickpocket who is locked up with a bunch of hardened criminals in the notoriously violent, real-life MACA prison in the Ivorian capital of Abidjan.
In a ritual imposed by a powerful convict, who is regarded as the prison boss, he is nominated to tell stories to the other inmates over the course of one night. Failure to keep them entertained could prove deadly.
He recounts the tale of Zama King, a childhood friend who was recruited to run errands by rebels at the end of Ivory Coast's second civil war and went to become a notorious street crime gang chief in Abidjan.
The film is drawn from Lacôte's own observations growing up in the Ivory Coast during years of civil conflict and the account of a friend who spent time in MACA.
"Night Of The Kings is built around a memory from my childhood: the journey I went on through the forest to the MACA prison. I waited in silence among the prisoners who weren't separated from the visitors," explained Lacôte.
"Years later, I wanted to bring to life the power of imagination this place had on me, and I decided to film a young man who is forced to tell stories throughout an entire night. Beyond the social context, what interests me is the poetic ritual created by the prisoners, the mix of dance and slam, linked to the tradition of West African griots."
It is Lacôte's second fiction feature after Run – about a young man on the run after assassinating his country's prime minister - which premiered in Cannes Un Certain Regard in 2014. The Abidjan-born director has also made several documentaries and shorts including Chronicles Of War In The Ivory Coast.
Big screen debutant Koné Bakary plays the protagonist Roman with the cast also featuring French actors Steve Tientcheu, seen recently in Les Misérables, and Denis Lavant as well as Rasmané Ouédraogo, Issaka Sawadogo, Digbeu Jean Cyrille, Anzian Marcel, Laetitia Ky and Abdoul Karim Konaté, who was the star of Run.
The feature produced by Paris-based Banshee Films (Delphine Jaquet) in coproduction with Abidjan-based Wassakara Productions (Ernest Konan), Canadian company Peripheria (Yanick Létourneau) and Yennenga Production (Yoro Mbaye) in Senegal.