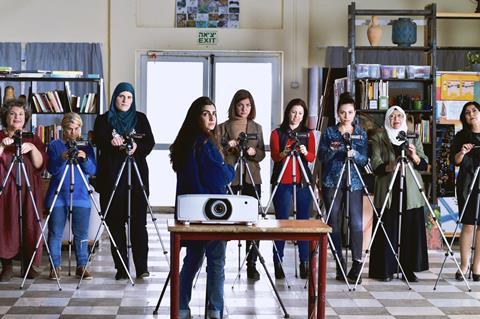 Paris-based Memento International has acquired world sales rights to Israeli director Orit Fouks Rotem's drama Cinema Sabaya revolving around a video workshop attended by women from either side of the Middle East conflict.
It is the latest feature from Tel Aviv-based film company Green Productions, which previously produced Scaffolding, Menashe, Youth and Summer Vacation. Maya Fischer, Gal Greenspan and Roi Kurland take lead producer credits.
Aurélien Bodinaux at Neon Rouge in Belgium is on board as a co-producer. His recent credits include Downstream To Kinshasa and The Mercy of the Jungle.
The film follows nine women, hailing from both Jewish-Israeli and Palestinian backgrounds, who join a workshop on how to document their lives, run by a young female film director. The raw footage presented by each member of the group challenges all their views and beliefs as they get to know one another better.
It is inspired by Rotem's own experiences as a filmmaking teacher, working with groups of women in the towns of Acres and Givat Haviva.
"Cinema Sabaya deals with the daily life and challenges of various Arab and Jewish women in Israel, as reflected in a video workshop for municipality employees," says Rotem. "This film is based on my personal experience as an instructor of such groups, and of my desire to bring those 'regular' lives to the big screen."
Cinema Sabaya marks the first feature for Jerusalem Sam Spiegel School graduate Rotem. Her short film credits include award-winning 2012 graduation film Staring Match; a segment of the 2018 portmanteau film Voice Over, made as a tribute to Israeli director Abraham Heffner, and Veil about an uncomfortable meeting between women on a bachelorette party and an African asylum seeker.
Memento International is launching the sales on Cinema Sabaya during the Pre-Cannes Screening online event (June 21-25) which kicked off today and will continue working on the film into the physical market in July. Other titles on its current slate include US thriller Catch The Fair One, which just premiered at Tribeca, and Cannes Palme d'Or contender A Hero by Asghar Farhadi.