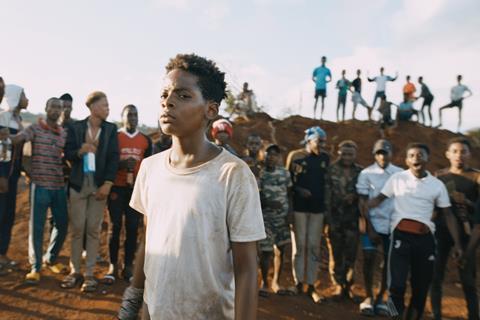 Paris-based Memento International is launching sales on French director Manuel Schapira's street children drama Tropic Of Violence at the Unifrance's Rendez-Vous in Paris, running as a physical event from January 11-17.
Adapted from a book of the same name by French-Mauritian writer Nathacha Appanah, the film follows an adopted teenager living as an illegal immigrant on the French overseas Indian Ocean island of Mayotte.
When his adoptive mother dies suddenly, he finds himself on the streets and joins a local street kid gang, where he is forced to adopt their codes in order to survive.
Schapira's credits include the short film Décroche which won the Berlinale Silver Bear and he also collaborated with Thomas Cailley on the TV series Ad Vitam.
Lead produced by Paris-based Windy Productions, Tropic Of Violence was the first-ever production to shoot on Mayotte island when it touched down there over the summer of 2020.
It features local newcomers Gilles Alane Ngalamou Hippocrate and Fazal Bacar-Molim with Dali Benssalah, who was seen recently in No Time to Die, and Ceìline Sallette.
Tandem Films is due to release the film in France this March.
Busy slate
Tropic Of Violence is among a trio of French-language films being launched by Memento at Unifrance's Paris Rendez-Vous alongside Dominik Moll's The Night Of The 12th and French-Swiss director Ursula Meier's The Line. Grenoble-set police drama The Night Of The 12th reunites with Moll actor Bastien Bouillon, who was in the cast of his last film Only The Animals. Bouillon plays a lead police detective who becomes obsessed with a case involving a complex female murder victim. Bouli Lanners also features in the cast as one of his colleagues.
Moll co-adapted the screenplay from the non-fiction book 'A Year At The Station' by Pauline Guéna with his long-time collaborator Gilles Marchand.
It is lead produced Haut & Court which will also release the film in France.
Meier's new film The Line co-stars Stéphanie Blanchoud as a turbulent young woman who has a restraining order placed on her after a violent argument with her mother, played by Valeria Bruni Tedeschi. Under the measure, she is banned from going within 100m of her family. The mother orders a younger sister to draw a line around the family home demarking this distance, but the young woman comes up to the line each day seeking forgiveness for what she has done.
Produced by Switzerland's Bandita Films with Les Films de Pierre and Les Films du Fleuve, the film has pre-sold sold to France (Diaphana), Filmcoopi (Switzerland) and Benelux (Cinéart).
Both films are in post-production and the plan is to launch them at a festival in 2022.
Moll's last film Only The Animals world premiered in Venice parallel section Giornate degli Autori in 2019. Meier previously won the Berlinale's Silver Bear for drama Sister in 2012 while her first film Home debuted in Cannes Critics' Week.