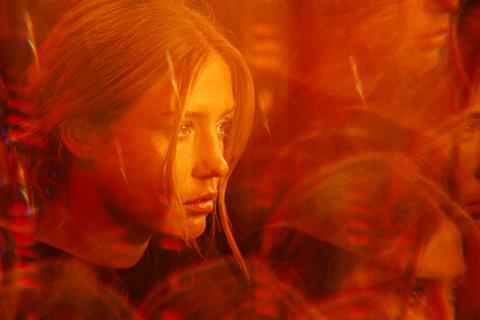 Wild Bunch International (WBI) has unveiled an eclectic French-language slate for 2022 featuring new films from Louis Garrel, Kim Chapiron, Alice Diop, Léa Mysius and Rebecca Zlotowski as well as directorial duo Benoît Delépine and Gustave Kervern.
The company is launching sales on the new French titles at the Unifrance Rendez-vous with French Cinema, which is scheduled to run as an in-person event in Paris from January 11 to 17.
Wild Bunch enjoyed a high-profile festival run for its 2021 slate which saw Titane win the Palme d'Or in Cannes and Happening clinch the Golden Lion in Venice, and Earwig feted with the Special Jury Prize in San Sebastian.
New titles in production include Garrel's comic thriller The Innocent. The actor and director co-stars opposite Anouk Grinberg and Roschdy Zem as a man who turns to criminal methods as he investigates his mother's new ex-convict partner. It is produced by Les Films des Tournelles and Ad Vitam has pre-bought French rights. It is Garrel's fourth feature in the director's chair after Cannes 2021 selection The Crusade, A Faithful Man and Two Friends.
Other titles shooting include Delépine and Kervern's political satire Sticking Together starring Vincent Macaigne and Jonathan Cohen as a feuding right-wing mayor and a green politician who are blindsided by a group of feminist activists. It is the filmmakers' first joint feature since internet privacy comedy Delete History which won the Berlinale's Silver Bear in 2020.
They are aiming to complete the film in time for a theatrical release in France to coincide with the presidential elections in May this year. The pair are also producing the film under the banner of their No Money Productions with Ad Vitam which has taken French rights.
Wild Bunch is reteaming with Chapiron on his first feature since the 2014 drama Smart Ass. Entitled Mercy (aka The Young Imam) it follows a Paris-born man who was sent to a madrasa in Mali as a wayward teenager. He returns 10 years later as a pious and reflective young man to his childhood neighbourhood, where his modern outlook and deep understanding of Islam quickly win him a local following.
Paris-based Srab Films is producing with Lyly Films, the production company of Les Misérables director Ladj Ly, a long-time friend and collaborator of Chapiron. Le Pacte has pre-bought French rights.
Titles in post-production include Zlotowski's fifth feature Other People's Children starring Virginie Efira as a childless, 40-year-old woman who forms a strong bond with her new partner's four-year-old daughter in a tale exploring longing and belonging.
It marks Zlotowski's return to feature filmmaking after directing high-end political drama Les Sauvages for Canal Plus. It is produced by long-time producer Fréderic Jouve at Les Films Velvets.
Rising generation
The line-up also features a trio of second films in post-production from a new generation of rising French filmmakers: Mysius's The Five Devils, Diop's Saint-Omer and Blazing Neon, by directorial duo Fabrice Garçon and Kévin Ossona, who go by the collective moniker of FGKO.
The Five Devils stars big-screen debutant Sally Dramé as a young girl whose understanding of reality is heightened by a hyperacute sense of smell, opposite Adele Exarchopoulos as her mother and Swala Emati, as a mysterious aunt who suddenly turns up, unleashing secrets from the past.
Mysius's debut feature Ava won multiple awards on the festival circuit in 2017. In the interim, she has also taken writing credits on Jacques Audiard's Paris, 13th District, Arnaud Desplechin's Oh Mercy! and Claire Denis's Stars At Noon.
Saint-Omer marks Diop's first fiction feature after Berlinale 2021 documentary award winner We. It revolves around a pregnant novelist who attends the trial of a young woman accused of killing her 15-month-old daughter. She plans to use the case as source material for a contemporary re-telling of the Greek myth of Medea. When the trial takes an unexpected turn, the writer finds herself questioning her own feelings about motherhood. It is also produced by Srab.
Billed as a road movie noir, Blazing Neon stars Jérémie Laheurte as a man caught up in a life of crime who is press-ganged into escorting a young Nigerian woman held by a prostitution ring to Spain. His charge has other ideas and is determined to flee her captors. Bonne Pioche Cinema and Logical Pictures are jointly producing the film.
The directors previously made waves with Thugocratie about a young gangster's ill-fated attempt to lead a crime-free life on his release from prison.
The line-up also features one first feature: Rascals by Jimmy Laporal-Trésor. His short film Black Soldier played in Cannes Critics' Week last year and is now in the running for the upcoming César awards.
Billed as a coming-of-age tale bringing together elements of This Is England and La Haine, it explores the clash between multiculturism and nationalism in France in the 1980s. It follows a gang of ethnic minority youngsters called The Rascals, who take on an ultra-violent gang of right-wing skinheads known as The Boneheads, losing their innocence in the process.
It is produced by Agat Films & Cie and Spade, the production arm of French distribution label The Jokers Films which has pre-brought local rights and has set a November 2022 release for France.
Previously announced French-language titles on WBI's 2022 slate include Michel Hazanavicius's zombie horror comedy Final Cut, which will debut at Sundance: James Huth's comedy remake The New Toy, Arnaud Desplechin's Brother And Sister starring Marion Cotillard and Denis's love triangle drama Fire, starring Juliette Binoche, Vincent Lindon and Grégoire Colin.
Further eagerly awaited non-French language titles include Denis's Stars At Noon. First announced in 2019, the production shot at the end of last year, with Margaret Qualley and Joe Alwyn co-starring as a struggling US journalist and a mysterious English businessman who embark on a passionate affair against the dangerous backdrop of the 1984 Nicaraguan Revolution.