Top bass at Mexican film institute IMCINE and the Canadian Media Producers Association remain upbeat about US ties in light of threats by Donald Trump to tear up NAFTA.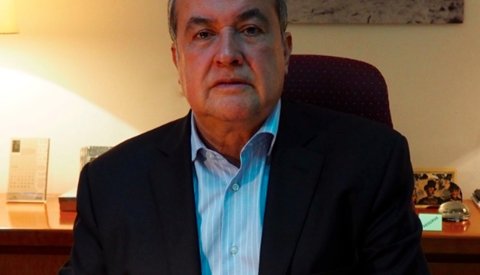 Despite the US president-elect's campaign tirades against NAFTA (The North American Free Trade Agreement) and the Trans-Pacific Partnership – he has not elaborated on these remarks since he won the election on November 8 – entertainment business and political leaders from the powerful neighbours either side of the US remain upbeat.
IMCINE director general Jorge Sánchez (pictured) said even if Trump were to abandon or modify the trilateral NAFTA in a material way, it would not have a substantial impact on cross-border productions and collaborations between singatories Mexico, Canada and the US.
Sánchez's comments came as Mexican president Enrique Pena Nieto on Saturday defended NAFTA – which Trump called "the worst trade deal in history" when he was on the hustings – and told the Asia-Pacific Economic Cooperation summit in Lima, Peru, that he wants to meet Trump to discuss the accord.
"NAFTA is the result of an organic tendency for both countries to exchange and trade together given our geographic and social situation, not the other way around," Sánchez told Screen. "More and more we have issues that bind us together, not [keep us] apart. Cinema is one of those.
'Mexico is the best film production partner for the US'
Sánchez continued: "Mexico is the best film production partner for the US. We are neighbours. We know each other's culture and traditions pretty well over a long time. Our technicians and talent are among the world's top qualified. Mexico offers state-of-the-art technology and studios, not to mention the most varied kind of locations.
IMCINE staff said in the last year US companies have shot 70 film and TV projects in Mexico, generating around $100m for the Mexican economy. Titles include Fear The Walking Dead Season 2, Untitled Nash Edgerton Project and Run Coyote Run.
Other notable projects that have taken advantage of Mexico's locations, facilities and world-class crews include James Bond tentpole Spectre, Monsters, The Mexican and Titanic.
Data provided by IMCINE indicates that in the past eight years, Mexico has participated in 170 co-productions, of which around 34 or 20% have been with the US.
"Pretty soon we will be re-launching our fiscal incentives and rebates to offer better grounds for foreign productions," said Sánchez. "These days we are seeing creative co-productions between both countries, not only production services. It's exciting."
Significant market ties
The value of the US as a market for Mexican films is significant, with more native titles opening in the US than in any other country.
According to Mexican chamber of commerce Canacine, six local titles released in the US generated $19.4m led by Un Gallo Con Muchos Huevos on $9.1m.
While this pales in comparison to the $44.5m box office of 2013 comedy smash Instructions Not Included – the outlier released by Pantelion Films, a joint venture between Lionsgate and Mexican giant Grupo Televisa – the US-based Spanish-speaking audience is growing steadily.
Mexico's value as a film-going market to the US is considerable, too. IMCINE sources said US films account for roughly 85% of revenues, which according to Canacine surged 15.8% in 2015 to a record $767.2m (Ps 13.9bn).
The number of tickets sold in 2015 climbed 16.7% to 299million, which ranks Mexico as the fourth largest international market in admissions. In terms of box office revenues it ranks tenth.
Sánchez remained phlegmatic when asked if there would be an impact on cross-border collaborations were Trump to make good on his pledge to build a wall between the US and Mexico.
"Again, I think the film economy obeys its own rules. At least from our side, we won't be denying permits nor access. We are facilitators and support storytellers and creative minds."
Canadian confident in US collaboration
North of the US border, there is a similar confidence in the strength and integrity of relations.
Buoyed by strong regional incentives, diverse locations, world-class facilities and an acclaimed crew base, Canada has famously hosted hundreds of US films down the years including Deadpool, The Revenant, Twilight, Mean Girls, The Day After Tomorrow and Capote, while TV credits include Battlestar Galactica and, shooting now, Antoine Fuqua's Ice.
A spokesperson for the Canadian Media Producers Association told Screen: "Over a period of many decades, Canada and the United States have built a strong, mutually beneficial partnership that has contributed to a prosperous media production sector on both sides of the border.

"As Prime Minister Trudeau recently noted, our shared values, deep cultural ties, and strong integrated economies will continue to provide the basis for advancing our common interests, which includes our screen-based production industries.
Last week, Ontario's minister of economic development and growth Brad Duguid was bullish on the region's economic outlook and the broader issue of trade between Canada and the US.
Trump rhetoric may not translate into problems for Canada
"I'm not at all convinced that the rhetoric we heard in the campaign will transfer into problems for Ontario or Canada," Duguid told the Canadian Club of Toronto.
"I know there are a lot of Canadians who have been knocked a little off balance by Donald Trump's election win last week. I think it's important that we talk about it. And I think it's important that we quickly regain our footing."
The politician noted that the man who will replace Barack Obama in the White House in January is keen to create jobs. "President-elect Trump signalled directly in his first speech on the morning of his election that he would work in the best interests of the United States.

"He also said that the US would always be fair in working with its partners. So, when it comes to Ontario and Canada, once you do the math, trade with our jurisdiction is crucial to the new president's efforts to create jobs and grow the US economy. Make no mistake – they need us nearly as much as we need them."
Duguid said annual trade between the US and Canada generates $687bn and added that Ontario accounted for roughly half that amount.
"But, if the new administration fails to see this, and if they decide that they still want to build walls — we in Ontario plan to continue building bridges."