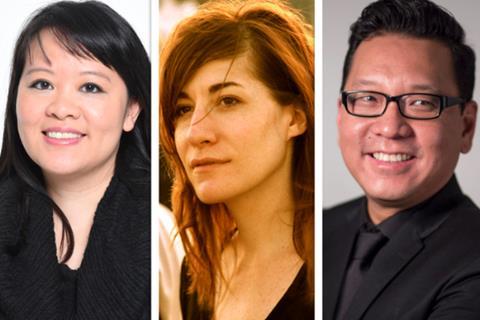 Producers Mynette Louie, Mollye Asher and Derek Nguyen have launched The Population to champion diverse storytelling and are developing a Mexico survival story and a crime series set in Detroit's Asian American and working class communities.
While the projects are in their infancy, the track record of the three co-founders is likely to inspire the kinds of content creators The Population wants to support: stories in film and television by or about women, people of colour, LGBTQIA+, and other underrepresented groups.
The first film on the books is documentarian Heidi Ewing's Sundance-bound narrative feature directorial debut I Carry You With Me (Te Llevo Conmigo) that premieres on January 26 in the Next programme and is produced by Louie (pictured at left) and Loki Films, and Josef Kubota Wladyka's Catch The Fair One currently in post.
Louie's producing credits include Jennifer Fox's The Tale, Aaron Katz's Gemini, and Carlo Mirabella-Davis' Swallow, which IFC Films releases on March 6. Louie previously ran Gamechanger Films, where she first worked with Asher and Nguyen.
Asher (pictured at centre) is in post on Chloe Zhao's Nomadland and produced Zhao's Cannes Directors' Fortnight winner The Rider, as well as Swallow. She was recently named recipient of the Producers Award at the 2020 Film Independent Spirit Awards, and is also producing Catch The Fair One.
Nguyen (pictured at right) is producing an American adaptation of his feature directorial debut The Housemaid, which IFC Films released in 2018. He is also producing Secret Sky written by Abdi Nazemian and Micah Schraft.
"Our hope with The Population is to help build a more equitable film and television industry," Louie said. She added, "As members of underrepresented groups, and coming from working class families as well, we've noticed how fortune favours the privileged in our industry.
"So we decided to gather the collective experience and connections we've built to keep enabling stories by or about people from marginalised groups. Our goal is to change the status quo of who gets to make movies, and who gets to ultimately influence society and culture."