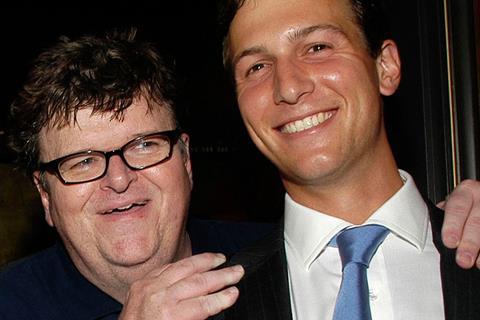 The world premiere of Michael Moore's Fahrenheit 11/9 exploring life in the United States under president Trump will open TIFF Docs at the Toronto International Film Festival, while David Gordon Green's Halloween and Shane Black's The Predator receive their world premeres in Midnight Madness.
Midnight Madness
The 10 Midnight Madness selections include the world premieres of Peter Strickland's In Fabric, about a cursed dress, and the first Indian film ever to screen in the section, Vasan Bala's The Man Who Feels No Pain.
Sam Levinson's Sundance breakout Assassination Nation gets its Canadian premiere, while programme closer Diamantino from Gabriel Abrantes and Daniel Schmidt, opened in Cannes and is a North American premiere.
"This year's Midnight Madness slate promises another idiosyncratic confluence of established and emerging genre filmmakers," said Midnight Madness programmer Peter Kuplowsky. "To complement some of the buzziest provocations on the festival circuit, I have sought to curate an eccentric array of World Premieres that demonstrate the dexterity of genre cinema as a canvas for both sublime satisfaction and stunning subversion. That includes the section's two much-anticipated sequels, The Predator and Halloween, each of which boldly and brilliantly builds upon its mythic iconography to thrilling and surprising effect."
The Midnight Madness programme:
Assassination Nation (USA)
Dir. Sam Levinson
Canadian premiere
Climax (France)
Dir. Gaspar Noé
North American premiere
*Midnight Madness Closing Film*
Diamantino (Portugal-France-Brazil)
Dirs. Gabriel Abrantes, Daniel Schmidt
North American premiere
Halloween (USA)
Dir. David Gordon Green
World premiere
In Fabric (UK)
Dir. Peter Strickland
World premiere
The Man Who Feels No Pain (India)
Dir. Vasan Bala
World premiere
Nekrotronic (Australia)
Dir. Kiah Roache-Turner
World premiere
*Midnight Madness Opening Film*
The Predator (USA)
Dir. Shane Black
World premiere
The Standoff At Sparrow Creek (USA)
Dir. Henry Dunham
World premiere
The Wind (USA)
Dir. Emma Tammi
World premiere
TIFF Docs
TIFF Docs presents 27 features representing 19 countries and closes with the North American premiere of Margarethe von Trotta's Searching For Ingmar Bergman in the year commemorating the centenary of the Swedish master's birth.
Besides Fahrenheit 11/9, the line-up includes world premieres of Rashida Jones and Alan Hicks' Quincy Jones profile Quincy, Rithy Panh's Cambodian genocide film Graves Without A Name, Maxim Pozdorovkin's The Truth About Killer Robots, Divide And Conquer: The Story Of Roger Ailes from Alexis Bloom, and Tom Donahue's exploration of gender dynamics in Hollywood, This Changes Everything.
Mark Cousins' Women Make Film: A New Road Movie Through Cinema receives its North American premiere, as does Errol Morris' American Dharma, while Gorbachev by Werner Herzog and André Singer gets its Canadian premiere.
One-third of this year's features are directed or co-directed by female filmmakers. Alex Holmes' Maiden chronicles the story of the first all-women sailing crew in the Whitbread Round the World Race (now the Volvo Ocean Race), and Tom Volf's Maria By Callas, narrated by Joyce DiDonato, profiles one of the major icons of the 20th century.
"TIFF Docs contains multiple titles poised to become the next non-fiction hits after a summer of box-office breakouts," said TIFF Docs programmer Thom Powers. "Beyond the well-known directors in the lineup, look out for newer talents that will take audiences by surprise."
The TIFF Docs programme:
American Dharma (USA-UK)
Dir. Errol Morris
North American premiere
Angels Are Made Of Light (USA-Denmark-Norway)
Dir. James Longley
Canadian premiere
The Biggest Little Farm (USA)
Dir. John Chester
International premiere
Divide And Conquer: The Story Of Roger Ailes (USA)
Dir. Alexis Bloom
World premiere
The Elephant Queen (UK-Kenya)
Dirs. Victoria Stone, Mark Deeble
World premiere
*TIFF Docs Opening Film*
Fahrenheit 11/9 (USA)
Dir. Michael Moore
World premiere
Free Solo (USA)
Dir. E. Chai Vasarhelyi
International premiere
Freedom Fields (Libya-UK-Netherlands-USA-Qatar-Lebanon-Canada
Dir. Naziha Arebi
World premiere
Ghost Fleet (USA)
Dirs. Shannon Service, Jeffrey Waldron
International premiere
Graves Without a Name (Les Tombeaus Sans Noms, France-Cambodia)
Dir. Rithy Panh
Canadian premiere
Heartbound (Hjertelandet, Denmark-Netherlands-Sweden)
Dirs. Janus Metz, Sine Plambech
World premiere
Maiden (UK)
Dir. Alex Holmes
World premiere
Maria By Callas (France)
Dir. Tom Volf
North American premiere
Meeting Gorbachev (UK-USA-Germany)
Dirs. Werner Herzog, André Singer
Canadian premiere
This Changes Everything (USA)
Dir. Tom Donahue
World premiere
Monrovia, Indiana (USA)
Dir. Frederick Wiseman
North American premiere
Putin's Witnesses (Svideteli Putina, | Latvia-Switzerland-Czech Republic)
Dir. Vitaly Mansky
International premiere
Quincy (USA)
Dirs. Rashida Jones, Alan Hicks
World premiere
Screwball (USA)
Dir. Billy Corben
World premiere
*TIFF Docs Closing Film*
Searching For Ingmar Bergman (Germany-France)
Dir. Margarethe von Trotta
North American premiere
The Truth About Killer Robots (USA)
Dir. Maxim Pozdorovkin
World premiere
Walking On Water (Italy-USA)
Dir. Andrey Paounov
North American premiere
When Arabs Danced (Au Temps Ou Les Arabes Dansaient, Belgium)
Dir. Jawad Rhalib
North American premiere
Women Make Film: A New Road Movie Through Cinema (UK)
Dir. Mark Cousins
North American premiere
Previously announced Canadian features at this year's TIFF include Ron Mann's Carmine Street Guitars, Barry Avrich's Prosecuting Evil: The Extraordinary World Of Ben Ferencz, and Astra Taylor's What Is Democracy?
TIFF Cinematheque
TIFF Cinematheque selections hail from the organisation's film archive of more than 3,000 prints and DCP's spanning a century of cinema, as well as guest introductions that will be announced shortly.
Ingmar Bergman's Persona (1966) is one of three titles to screen in 35mm. The others are a rare print of Carl Theodor Dreyer's The Passion Of Joan Of Arc (1928), and Claire Denis' Chocolat (1998), which first screened at TIFF 20 years ago. Zacharias Kunuk's Caméra d'Or winner Atanarjuat: The Fast Runner (2001) will also screen.
"Emphasizing film preservation and medium specificity is a huge priority for us," said Brad Deane, TIFF Cinematheque senior manager. "We are privileged to have access to our Film Reference Library's extraordinary archive. We hope to remind audiences that film preservation efforts carried out by archives across the globe are absolutely critical to the future of cinema and the creation of unmissable film experiences such as these."
TIFF Shorts
Thirty-six selections will screen at TIFF as part of the Short Cuts programme sponsored by IWC Schaffhausen. The roster includes 14 world premieres and works from 32 countries, in 19 languages, of which 18 were directed or co-directed by women.
Highlights include Reed Van Dyk's Interior, the follow-up to his recent Oscar–nominated live-action short DeKelb Elementary; Charles Williams' All These Creatures, winner of the Short Film Palme d'Or in Cannes; documentaries The Ambassador's Wife from Traore Dahlberg, and Circle; from Jayisha Patel; and stop-motion animation This Magnificent Cake! (Ce Magnifique Gâteau!) from Emma de Swaef and Marc James Roels.
TIFF runs from September 6-16. For the full line-up click here.