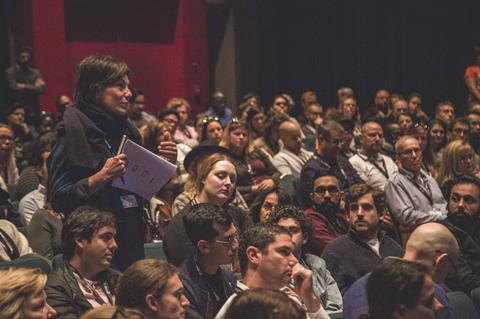 Mike Leigh, Jason Reitman and Sebastian Lelio are among the additions to the TIFF Industry Conference set to kick off during next week's Toronto International Film Festival (TIFF).
TIFF artistic director Cameron Bailey will interview on stage the actor and director of Hidden Man Jiang Wen in a Masterclass session on September 12. The event is one of several featuring fimmakers, executives, and media personalities.
On September 7 Chilean auteur Lelio, whose Gloria Bell receives its world premiere, joins exhibitors and filmmakers in 'Going To the Movies: Why Cinemas Matter', a panel moderated by National Association Of Theatre Owners chief John Fithian that will examine the impact of theatrical exhibition on today's culture and the ways in which exhibition drives revenue for the industry at large.
Also on September 7 TIFF Tech will present a keynote by Erin Bury of communications agency EightyEight offering insights into the mindset of an entrepreneur. Elamin Abdelmahmoud of Buzzfeed News, Uber machine learning expert Inmar Givoni, and Canadian digital journalist and multiplatform producer Ramona Pringle will take part in a session titled 'Exploring ethics and emerging trends in Tech'.
A day later tech investor Prashant Matta and Dead Poets Society and Emma producer Steven Haft of the Blockchain for Social Impact Coalition will deliver a keynote about the potential impact of blockchain.
Joel Edgerton, director of TIFF international premiere and gay conversation therapy drama Boy Erased, will join the book's author Garrard Conley and senior vice-president Laura Kim of Participant Media, which was involved in this year's Oscar-winner A Fantastic Woman, in a session on September 8 hosted by LGBT media monitoring group GLAAD to explore how the organisation addresses key community issues and the importance of onscreen representation to change hearts and minds around the world.
Reitman will take part in the '3 For 30' screenwriters session on September 9 hosted by Franklin Leonard and Kate Hagen from The Black List in which writer-director film teams dissect a scene.
Reitman and his The Front Runner writers Matt Bai and Jay Carlson will discuss their TIFF world premiere starring Hugh Jackman as flawed Democratic presidential hopeful Gary Hart. Paul Dano will attend to talk up his drama and TIFF Canadian premiere Wildlife, and actor Tuva Novotny will discuss her feature directorial debut Blindspot.
The Guardian TIFF Talks conversation series offers an opportunity to hear Mike Leigh and longtime producing partner Georgina Lowe talk about their latest film and TIFF Canadian premiere Peterloo on September 10, while Jeremy Saulnier, director of world premiere Hold The Dark, will participate alongside stars Jeffrey Wright, Alexander Skarsgard, and Riley Keough on September 12.
On September 10 'Fertile Ground: Reframing Genre' brings together Netflix Original Films creative and acquisitions executive Funa Maduka, filmmakers Jeff Barnaby and Emma Tammi, who makes her solo directorial debut on TIFF world premiere The Wind, and TIFF midnight madness programmer Peter Kuplowski to discuss how genre films are breaking barriers and box-office expectations.
The Landscapes section taking place over several days brings fireside chats with James Hickey of Screen Ireland (September 8), representatives from Brazil's ANCINE & Cinema do Brasil (September 8), Indian filmmakers Richie Mehta and Nandita Das (September 9), and China's Yung Chang (September 9).