TV sales arm to mark first anniversary at Cannes content market.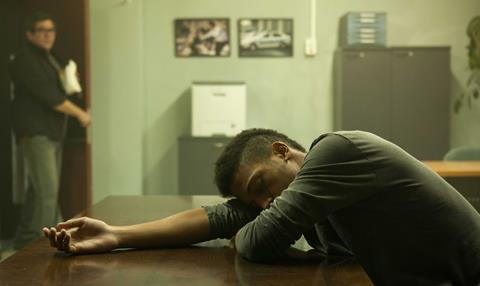 Wild Bunch TV will launch a trio of new series at the upcoming edition of MIPCOM Oct 17-20, its second time at the content market since launching last year.
It will kick off sales on Belgian-produced, bittersweet romance and road trip Tytgat Chocolate about a mentally-challenged, chocolate factory worker who sets off in search of his girlfriend after she is deported back to Kosovo.
The Flemish-language series is written and directed by Marc Bryssinck and Filip Lenaerts. Brussels-based deMENSEN – which previously made Beau Sejour and Highway of Love – produced the series for VRT.
The quirky drama stars Jelle Palmaerts alongside other members of Belgium's Theater STAP, a company of mentally-challenged professional actors.
Flemish stars Els Dottermans and Jan Decleir also feature in the cast.
Israeli dramas
Wild Bunch TV has also picked up sales on Israeli director-writer Keren Weissman's psychological drama Mama's Angel [pictured] in which the dark underbelly of a wealthy Tel Aviv suburb emerges following the brutal murder of a local young boy.
The series, which participated in competition at the Paris-set Series Mania event last April, is produced by Tel Aviv-based Black Sheep Film Productions for the Israel's YES TV.
The company's other recent credits include Asaph Polonsky's One Week And A Day, which screened in Cannes Critics' Week this year, and the award-winning holocaust survivor documentary Farewell Herr Schwarz.
Also out of Israel, The Exchange Principle stars Lior Ashkenazi (Footnote, Late Marriage) as a talented forensics officer who ends up living on the streets of Tel Aviv after suffering a nervous breakdown.
He faces a life-changing decision on discovering he may have helped wrongly convict a man for the murder of a judge.
Oded Davidoff directs the 10-part Hebrew-language series from a script co-written with long-time collaborator Noah Stollman.
They previously worked together on the Golan Heights-set mystery drama Pillars Of Smoke (Timrot Ashan), for which NBC picked up the remake rights.
The Exchange Principle was produced by United Studios of Israel for Hot Cable.
Wild Bunch TV launched last year as the TV sales and co-financing arm of Paris-based film production, sales and distribution powerhouse Wild Bunch.
Its debut line-up featured Frank Spotnitz's renaissance drama Medici: Masters of Florence on which it secured a slew of deals including to France (SFR/Altice), Germany (Sky), Japan (Hulu) and Latin America (Sony Pictures Television).