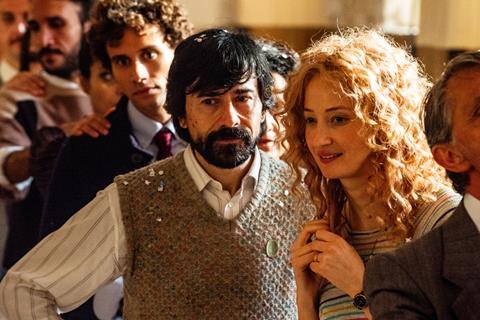 Paris-based company mk2 films has boarded sales on Italian director Daniele Luchetti's The Ties, a portrait of a broken marriage told through the separate perspectives of the wife, husband and children and set against the backdrop of Naples.
Alba Rohrwacher and Luigi Lo Cascio star as the couple in a cast also featuring Laura Morante and Giovanna Mezzogiorno.
Adapted from Italian writer Domenico Starnone's 2014 novel Lacci, the feature is produced by Beppe Caschetto's Bologna-based IBC Movie, the credits of which also include The Traitor and Martin Eden, and Rai Cinema.
The company has a long history of working with Italian filmmakers, most recently handling Paolo and Vittorio Taviani's 2015 film Wondrous Boccaccio.
mk2 films has released a first look for The Ties which is currently in post-production and could be ready in time for a Cannes splash. Luchetti was previously at the festival with Our Life which premiered in competition in 2010.
In other new acquisitions for the EFM, the company is also launching Israeli director Nir Bergman's drama Here We Are about a father who hits the road with his young adult, autistic son rather than commit him to a specialised home.
It is a fifth feature for Bergman, whose debut work Broken Wings premiered at Berlin in 2002. He is also the co-creator of the popular Israeli TV series In Treatment. Eitan Mansuri at Spiro Films produces with Italian company Rosamont.
The company is also launching two new French-language titles: Jérôme Bonnell's The Love Letter and Axelle Ropert's Petite Solange.
The Love Letter stars Call My Agent! cast member Grégory Montel as a forty-something Parisian man who looks back over his life and past relationships as he writes a letter in a café to an ex-girlfriend he is desperate to win back.
"After a line-up last year of predominantly female-led films, we are excited to have two films that portray male characters in a way rarely seen on screen," said mk2 films managing director Juliette Schrameck, alluding to the 2019 slate, which featured titles such as Portrait Of A Lady On Fire and Sibyl.
"Here We Are is a very moving, feel-good story with a topical modern subject centred around a father, son relationship, while The Love Letter is a sensitive and nuanced portrait, touching on contemporary questions around the crisis of masculinity and what it means to be a man," she said.
Starring Léa Drucker and Philippe Katerine, Petite Solange revolves around a 12-year-old girl whose world starts to splinter as her parents, who she both adores, grow apart and lurch towards divorce.
"The Ties and Petite Solange are two films about families coming apart, one spanning 30 years, the other seen from a 12-year-old girl's point of view,' added Schrameck