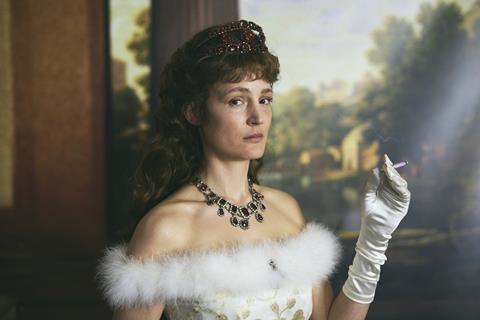 Paris-based sales company mk2 Films has released a first-look image for Marie Kreutzer's costume drama Corsage, starring Vicky Krieps as 19th-century Empress Elisabeth of Austria.

Affectionately nicknamed Sisi, the empress was one of the most high-profile royals of her time with a celebrity status on a par with that of Princess Diana. Her life has inspired a number of features and TV dramas.
A new promo for Corsage teases new footage to buyers this week at the AFM and promises a fresh and modern interpretation of the life of the iconic aristocrat, amid life with her husband Emperor Franz Joseph in the court of the House of Habsburg.
The storyline focuses on a short period in the empress's life around Christmas 1877 as she turns 40 and starts to question what her future holds as her renowned beauty starts to fade.
Krieps is joined in the cast by Florian Teichtmeister as Emperor Franz Joseph, Manuel Rubey as cousin and close friend Ludwig II, King of Bavaria, and Katharina Lorenz as lady-in-waiting and confidante Marie Festetics.
The film is being produced by Alexander Glehr and Johanna Scherz of Vienna-based Film AG in co-production with Bernard Michaux, Luxembourg's Samsa Film, Germany's Komplizen Film and France's Kazak Productions. Film AG produced Kreutzer's fifth feature, the contemporary drama The Ground Beneath My Feet which world premiered in competition at the Berlinale in 2019.
The production shot in Austria and Luxembourg over the summer and is now in post-production.