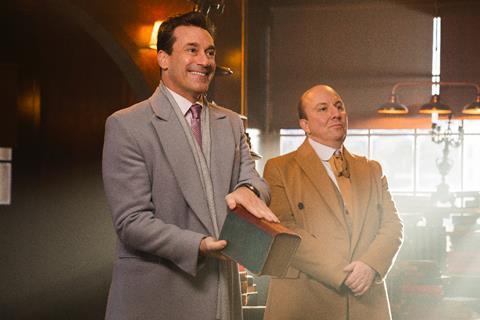 There are more high-quality roles for actors because of streaming services such as Amazon and Netflix, but not everyone is getting the same opportunities, according to several Amazon series stars.
Actors including Rachel Brosnahan (The Marvellous Mrs. Maisel), Jon Hamm (Good Omens) and Julia Roberts (Homecoming) were promoting shows at a press day for Amazon Prime held in London last week.
"It's great for an actor [because] we don't have to do a cop show, a lawyer show or a doctor show, which were the only three things available when it was network television," said Jon Hamm. "Now we can do a book [Good Omens] that I never thought would be filmed in my life."
Good Omens, based on the 1990 book by Neil Gaiman and Terry Pratchett, is a co-production with the BBC. It co-stars Michael Sheen and David Tennant and will debut on Amazon in 2019, with a BBC broadcast to follow.
"If you're talking about the quality feature films made at a studio level, there are five people that get offered those parts, and if you're talking about the big tentpole things, all those jobs are taken, unless they're recasting Iron Man or Batman," Hamm explained. "There're so many more opportunities at this end, not just drama but comedy and fantasy. If you do our job there's so many jobs out there, it's fun."
However, Brosnahan and Marin Hinkle, the stars of The Marvellous Mrs. Maisel, which won seven Emmys last month including best comedy, pointed out the high-end drama boom hasn't increased opportunities for everyone.
"I am a woman in my 50s and I have a lot of actor friends who are the same age and I don't think we're sharing [these new opportunities]," said Hinkle. " It hasn't changed too much in our age group. It would be great if we could have this discussion in five years and say its growing for all types of subjects and all kinds of people."
Emmy-winner Brosnahan added: "There are more platforms and there is more room for different voices, but we still have a long way to go in terms of doing a better job of putting our collective money where our mouth is as an industry. There is more opportunity but it has not equated to more opportunity for everyone."
Diminishing returns
Co-star Tony Shalhoub pointed out the volume of TV production might not be sustainable. "It raises the question 'at what point do we hit that diminishing returns'?" said Shalhoub. "If there's going to be more product, and more outlets, where is the viewership? Does that mean the viewership decreases?"
Another upcoming Amazon show is Homecoming directed by Sam Esmail, starring Julia Roberts and based on the podcast created by Eli Horowitz and Micah Bloomberg. It is released globally in November.
The drama sees Julia Roberts take on a TV role for the first time, but she said feature films are still her priority despite the new-found opportunities on the small screen.
"I read more film scripts than television scripts," she said. "A person that sits in the place I sit in my life would never say a bad thing about movies, I love them, I lived my dream through them and as a worker bee the ultimate thing in my life is film."