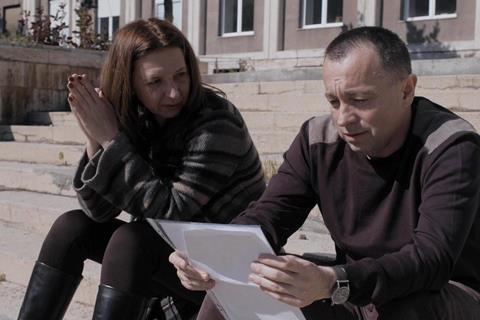 European documentary makers have issued urgent calls for changes to the new Creative Europe MEDIA programme, which recently secured a major budget increase.
A joint statement, signed by more than 40 documentary associations across Europe, expressed "great concern" for what it said was a "sharp decline in support for creative documentaries by the European Commission," following the European Parliament's adoption of a new financial plan for the Creative Europe programme.
The programme recently saw its budget for 2021-2027 increased from the previous total of €1.46bn to €2.2bn, with at least 58% reserved for the MEDIA strand.
But three technical changes to MEDIA regulations are claimed to threaten creative documentary in the EU and signatories said that the financing and production of European features such as Oscar nominees Honeyland and Collective could be at threat in the future.
One change involves new rules around development funding, which now will only be awarded to projects that begin filming at least 10 months after the deadline for submission of the application for support. The previous time limit was eight months.
"This new deadline is incompatible with the production schedules of single creative documentaries, which are inherently shorter than those of fiction and animation, due to the need to react fast to the rapidly changing reality of world events," said the statement.
Another source of concern is the requirement for a production company to co-apply for funding with another production company from another country. The leading company will need to have distributed a project to at least three countries, other than its own, since 2014 – previously limited to just one country.
This change unfairly affects the ability for "low-capacity countries" companies to lead a project, according to the statement.
The third change is to funds for audiovisual production, which previously allowed fiction and animation to benefit from a maximum co-financing rate of 12.5 % of total eligible costs from the MEDIA fund - but allowed documentary a maximum rate of 20%. Under the new rules, there is a maximum rate of 15% across the board, which means a boost for fiction and animation but a blow to documentary.
"Damaging" the documentary eco-system
Among those lobbying the European Commission to amend the new rules is the Documentary Association of Europe (DAE), the pan-European networking group set up at the Berlinale in 2020.
DAE co-founder and co-director Brigid O'Shea told Screen that the new MEDIA regulations around distribution and coproduction are tilted toward "the large AV [audiovisual] output countries" and do not "recognise the really wonderful contributions to the genre that do come out of the low AV output countries including films like the most recent Oscar nominations from European filmmakers, namely films like Honeyland and Collective, both films from low AV output countries that would no longer be eligible for MEDIA financing."
Leading Greek-based documentary director Marco Gastine also explained why the new framework could prove damaging for the European documentary eco-system.
Gastine said that he and his Greek colleagues in Hellas Doc (the Greek Documentary Association) had only learned about the changes to the regulations on May 15 and so had little time to comment, lobby or intervene.
"The MEDIA development [funding] was very important for us in creative documentary," said Gastine, citing the lack of alternative development support schemes within Greece and other similar EU countries.
For documentary makers, Gastine added, the development process is very different to that in fiction filmmaking, which is something he said public funders need to acknowledge. "When you develop, you shoot," he stated. "A big part of the documentary can be shot in the face of development."
Filmmakers developing fiction projects have scripts. However, documentary makers attending pitching and production forums will generally present footage they have already shot.
"I understand in a public [development] programme, it is difficult to give you money when you have already made something," Gastine acknowledged but added that this is the way documentary financing has always worked.
"New colonialism"
The producer-director also claimed that the new three-country distribution rule will adversely affect smaller nations whose documentaries do not always travel widely. "We will have to depend on the big countries," he said of the coproduction arrangements that will now need to be put in place.
"I don't want to make it political but it is like a new colonialism. A small country has to depend on a big [one]. It is exactly the opposite of the philosophy of Creative Europe," he said of a system intended to support "creativity, parity and pluralism".
Gastine recognised that it may be too late to reform the rules already passed by Creative Europe. "I am not optimistic because it is a little late," he said. "If we had had the information one or two months ago, we could have lobbied… Now it has been voted."
However, the documentary associations are hopeful that Creative Europe executives will listen to and address their concerns. "One of the things we are really hoping for is that there will be a consultation starting at the latest this summer," said Marion Schmidt, co-founder and co-director at DAE.