Former US assistant secretary of state for economic and business affairs Charles Rivkin named as successor.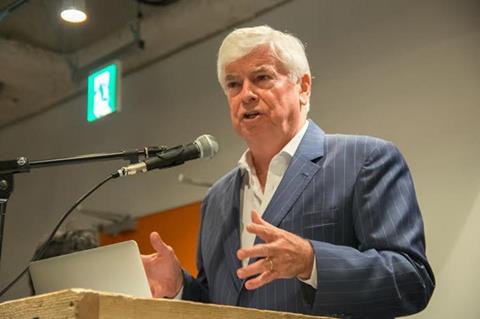 Christopher Dodd, the former US senator who has led the Motion Picture Association of America (MPAA) as chairman and CEO for the last six years, is to step down in September.
Dodd will cease to be CEO on September 4 and relinquish his role as chairman at the end of the year.
The MPAA board will meet on Saturday (29) to name Charles Rivkin, former US assistant secretary of state for economic and business affairs, as Dodd's successor.
Rivkin will join the MPAA on September 5 and work with Dodd to effect the transition by the start of 2018.
Dodd proved to be a popular and eloquent lobbyist for Hollywood and is credited with helping to bring the MPAA into the digital age.
Under his tenure, he made content protection a priority around the world and took the fight to large pirate sites like MegaUpload and KickassTorrents. Dodd also developed ties with China and opened access to Hollywood studios.
Fox chairman and CEO Stacey Snider was one of a number of studio heads who paid tribute. Snider said Dodd's work in protecting copyright "set the precedent for defending the rights of creators in the rapidly evolving digital ecosystem."
"Charlie Rivkin is an excellent choice to lead MPAA into the future, and I look forward to working with him for a smooth and successful transition," Dodd said.

"I'm honored to have led the MPAA for more than six years and extremely proud of what we accomplished. Our focus has been making our members' films and television programs more accessible to worldwide audiences while furthering IP protection globally. I can confidently say we've made significant strides in both areas."
Rivkin most recently served as assistant secretary of state for economic and business affairs under the Barak Obama administration from 2014 to 2017. Before that he was US Ambassador to France and Monaco, and prior to public service, he was CEO of The Jim Henson Company and W!ldBrain.
"In today's digital world, the mission and function of the MPAA are more important than ever," Rivkin said. "Chris has done a great job, and I'm excited to work with the member studios to continue to expand the global market for entertainment content, while ensuring creators' rights are respected around the world."
"I am fully confident Charlie is the right person to expand on Chris' tremendous achievements of the last six years and forge new opportunities for the creative sector," Paramount chairman and CEO Jim Gianopulos said, echoing the sentiments of other studio heads.