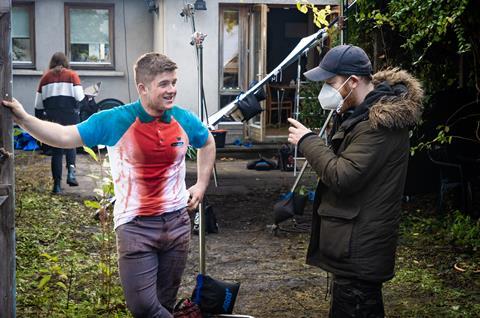 Production has wrapped in Dublin on vampire comedy Let The Wrong One In as MPI Media Group engages with buyers at AFM 2020 Online.
The project is a co-production between Tailored Films (The Lodgers) and Workshed Films (From the Dark), and is financed by Screen Ireland, MPI Media Group, and the BAI, in association with RTE.
Filming took place in key locations in Ringsend, as well as the Bram Stoker Museum / Castle Dracula in Clontarf. The film was originally scheduled to commence production in mid-March before it was put on hold due to the pandemic.
Production resumed in late September under Covid protocols and principal photography concluded without any further setbacks.
Let The Wrong One In follows young supermarket worker who discovers his older brother has turned into a vampire and must decide whether to help or slay his sibling.
The cast includes emerging Irish talent Karl Rice and Eoin Duffy, and also stars Anthony Head from Buffy The Vampire Slayer as a taxi driver with a sideline in vampire hunting.
McMahon said, "The shoot was a great experience, with a wonderful crew that really banded together. It was a pleasure to work with a legend such as Anthony Head, and I got a real kick out of seeing him killing vampires again."
Giles Edwards, MPI's head of acquisitions and development added, "Conor has once again proven himself to be one of the finest voices working in genre film today – he and his furiously talented team have, against monstrous odds, delivered an equally monstrous riot of horror and hilarity."
The film is scheduled for delivery in 2021.