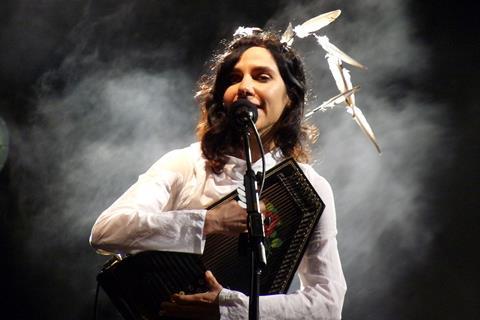 Vienna and Los Angeles-based documentary specialist Autlook has sold Seamus Murphey's PJ Harvey documentary, A Dog Called Money, to MUBI for the UK.
The film had its world premiere at the Berlinale and will make its UK premiere at Sheffield Doc/Fest in early June. MUBI will then give the documentary a theatrical release in the UK day and date with its release online.
Murphy also produced the film with Isabel Davis, Katie Holly, and James Wilson for Great Point Media, ATC Management, Pulse Films, Blinder Films and JW Films.
The film sees Murphy chronicle his collaboration with the artist on her 2016 album The Hope Six Demolition Project. It is fully backed by PJ Harvey, who recently released a new score for the stage play All About Eve. Screen Ireland supported the film.
Autlook has also sold A Dog Called Money to Non Stop (Nordics), Madman (Australia and New Zealand), Beat (CIS), Zeta Films (Brazil), Against Gravity (Poland), Avalon (Spain), Just Wanted (Italy), Stadtkino (Austria), B Side (Taiwan) and Leopardo Films (Portugal).