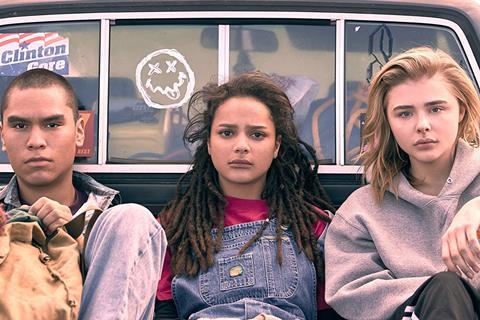 Streaming outfit MUBI has added a theatrical element to its UK service, offering users one free cinema ticket per week to a film selected by the company.
The initiative kicks off with Sundance Grand Jury prize winner The Miseducation Of Cameron Post, which is released by Vertigo on Friday (Sept 7). This will be followed by The Rider (released by Altitude) and then Skate Kitchen (Modern Films).
The selections, chosen by MUBI's programming team, will be a mixture of general UK releases and MUBI's own distribution titles. Recently, the company took UK rights to Suspiria, which Screen understands will be a MUBI Go title when it is released on November 16.
Inevitably, comparisons will immediately be drawn with US cinema ticket subscription service Moviepass, which originally offered users unlimited cinema visits for a flat rate, but has since run into significant financial difficulties.
"It's a different beast from Moviepass," said MUBI founder and CEO Efe Cakarel, adding he doesn't believe the US company's model could ever make economic sense. "They have lost money from every subscriber and it doesn't scale," he explained.
MUBI's approach targets smaller films, for which it will pay a discounted rate to cinemas, and restricts users to a maximum of four tickets per month. Cakarel has spoken to every UK exhibitor in the last 12 months to negotiate terms (not all have signed up, see further down).

It will still be a significant investment, Cakarel admitted. "We are going to invest millions of dollars in these tickets". However, he believes it will not take too long before the numbers add up in terms of increased subscribers.
If the scheme is more successful than it forecasts, the company will raise more funds to cover the initial outlay. "We think MUBI Go is sustainable. If our calculations are wrong, we will then need to raise more capital to scale it up."
He also notes, as a streaming service, MUBI became a profitable company in Q1, 2018 – last year it grew its revenue by 45% and it is predicting this year that it will grow by a further 80%.
MUBI has also committed to making 12 of its MUBI Go films per year independent UK productions, with one selected per month [the first is unconfirmed].
How it works
The cinema tickets automatically come with a MUBI subscription via its app, and the price point of the platform remains at £7.99 per month, which Cakarel said the company has no plans to increase.
Tickets are subject to availability and consumers need to purchase the ticket at the venue itself, meaning it can't be booked in advance.
Industry response
Cakarel says the company has received largely positive feedback from exhibitors to date. "Trying to fill seats for small, challenging films is very appealing to exhibitors," he explains. "We're talking Zama, not The Avengers."
Participating cinemas to date include the Vue multiplex chain, which operates 87 sites across the UK. Indie venues to have signed up so far include Barbican, ICA, Genesis and Rio Cinema in London, Watershed in Bristol, HOME in Manchester (launching later this month), the GFT in Glasgow, the Showroom in Sheffield, Chapter in Cardiff, Broadway in Nottingham, The QFT in Belfast, DCA in Dundee, the Depot in Lewes, The Picturehouse in Uckfield, Eden Court in Inverness and Filmhouse in Edinburgh.
"This is the first large-scale partnership that a streaming service has had with exhibitors," suggested Cakarel.
Discussions are ongoing with further cinemas, including the Curzon chain.
One challenge so far for MUBI is it requires all venues in a chain to participate, which Cakarel says is "non-negotiable". However, it is understood some exhibitors operating prestige sites, particutlarly in city centres, object to offering high-demand seats at MUBI's discounted price.
While MUBI doesn't strictly need buy-in from distributors because MUBI Go works directly with exhibitors, Cakarel is confident it will appeal to them.
MUBI has 600,000 registered users in the UK (these are not necessarily subscribers, which the company doesn't note publicly but is said to be north of 100,000 globally, most of which are in the UK), and the company is able to target them with direct communication about its MUBI Go releases.
Distributors collaborating with the initiative so far include Thunderbird, Dogwoof, Altitude, Vertigo and eOne. Discussions are ongoing with further distributors.
Theatrical model
Since last year, MUBI has been operating in the cinema space with theatrical releases both in the UK and US. The endeavour kicked off with 2017 Cannes Un Certain Regard winner The Happiest Day In The Life Of Olli Maki, which Cakarel admits the company lost money on due to overly ambitious P&A spend.
Since then, the company has released several titles including Ildikó Enyedi's Oscar-nominated On Body And Soul, Alain Gomis' Félicité, and recently Stephen Nomura Schible's Ryuichi Sakamoto: Coda, several of which the MUBI boss claimed were profitable solely on their theatrical runs.
"We're really committed to theatrical for the films that we buy all rights for - we encourage our current members to go see these films on the big screen," said Cakarel. "We've seen that once we release films theatrical, our audience get excited and we get much higher engagement on MUBI when it goes online. That's a key insight."
"Cinemas are here to stay, we really believe in that experience. At MUBI we are not trying to replace cinema – we want to make films more accessible and convenient. MUBI Go is everything coming full circle," said Cakarel.
Data
A further benefit of the theatrical model for MUBI will be the data it can gather on its users' habits. Cakarel described data as "gold".
"I will know which cinema you go to, which film you watch, when you watch it - all that is very important for us to then plan our releases, figure out which films engage certain audiences in certain cities or countries."
He also noted MUBI will take the unusual step of feeding back data to its exhibitor and distributor partners, which he says is "key" to the relationships.
"I won't be able to tell them who watches films where as it's against our terms and conditions, but aggregate data – this film has been seen by this many people in these cinemas – that's very good information.
"I also won't tell one cinema how many people went to another cinema, but they will know their own data and how important they were in the network," he continued.