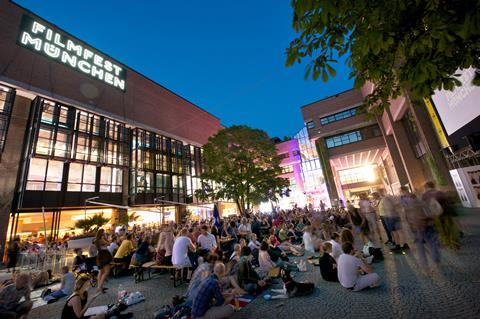 The 37th edition of the Munich Film Festival has been postponed by a year due to the ongoing coronavirus pandemic.
The film festival, which is Germany's biggest after the Berlinale, was due to run June 25 to July 4 but will now take place in the summer of 2021. Exact dates have yet to be announced.
Organisers had discussed shortening the festival to just a few days with small gatherings, to take social distancing into consideration. Other suggestions were to postpone it to the autumn or pivot the event online. But with uncertainty over whether Europe and the rest of the world will have returned to normal by the end of June and continued mindfulness over social distancing and travel restrictions, the decision has been taken to cancel.
Munich festival director Diane Iljine said the decision "fills me with sadness".
"After numerous discussions with industry representatives, filmmakers, politicians, and virologists, we and our supervisory board have come to the conclusion that any other scenario would be either irresponsible or simply not feasible," she said. "We will now be acting to ensure that the Filmfest München brand remains visible this year and is energised for the coming year."
If the festival had gone ahead, it might also have had to contend with the Cannes Film Festival, which was due to run May 12-23 but is now planning to take place at the end of June or beginning of July – clashing with Munich.
Mindful of the festival calendar, Iljine also acknowledged that the festival could not simply shift its dates to the autumn. "There are festivals in Locarno, Venice, and Toronto that it wouldn't be at all sensible to overlap with," she said. "Moreover, there might be a backlog of events, and the festival calendar would be seriously disrupted."
In terms of taking the festival online, Iljine said the prospect sounded "very tempting" but that issues over "streaming rights to the films, some of which where are supposed to have their world premiere at the festival" made it a complicated scenario. "It also raises the question of what this would mean for movie theatres in the long term," she added.
Last month, Europe's International Union of Cinemas (UNIC) issued a warning that releasing films early on streaming services could damage the future of the sector.
Judith Gerlach, Bavaria's minister of digital affairs and chair of the festival's supervisory board, said of Munich's cancellation: "Corona is changing all our lives. For us, the Bavarian state government, protecting people and battling corona together are the top priority. That's why we had to make this decision."
But giving hope to employees of the festival, Gerlach added: "We also understand the disappointment of all those who have put their heart and soul into planning the film festival. That is why I will continue to give my full support to the film festivals in Bavaria. We will continue to support Filmfest München sustainably, so that solutions can be found for all employees and the core team can continue to work."
Iljine, however, added a note of caution and said: "We are very aware of our responsibility to the entire team. In all honesty though, it won't work without cutbacks. We have, however, taken steps toward finding solutions that will prevent cases of hardship and have received positive signals from our shareholders in return."
Last year's edition of the festival ran June 27-July 6 and awarded its best international film prize to Brazilian thriller Bacurau, directed by Juliano Dornelles and Kleber Mendonça Filho.